Start a week and what better way to find new inspiring ideas to improve and cool our homes, not only transforming its aesthetics, as we can make them more convenience and comfort. Adding a new looks to a workspace at home, this time, with hints of color that bring joy, dynamics and personality to the environment.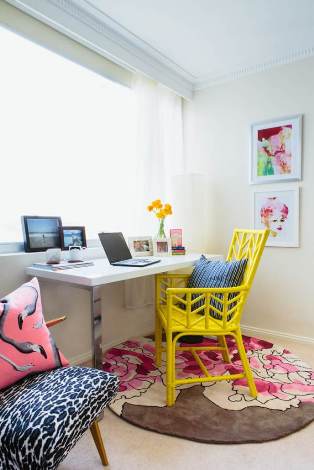 You'll see in a few steps that can create a total change in the appearance of an office. With these proposals can be renewed interior, at the same time adding personal winks, an ideal choice to provide warmth of a workspace.
Renew a seat, which will become a good company for the hours of work or study. Choose a comfortable chair, but without neglecting the aesthetics, plus a conventional model can be transformed completely by color. The proposal is to apply new layers of paint to the surface of the chosen chair or changing the upholstery for a colorist fabric and attractive patterns.
Another alternative to enhance the comfort in a workspace is to add to the atmosphere a carpet that offers a soft, warm surface and which also add to the decoration design. If you like a Kilim-type model it will be able to add a new point of attraction and tendency to stay.
Decorate the walls with sheets, maps, illustrations or photographs, it is an option to add color to these surfaces, in turn, a good resource to create corners personality. The trick is to gather several pictures in one place to give visual strength to the composition.