Adding storage space in any room of the house is always an advantage, because thus we can have better organized an environment, achieving visual cleaning and when everything is in place will be able to reduce time in search for objects between mountains of disorder. Today's proposal focuses on the bathroom, in a combination of aesthetics and functionality that supports different variations to personalize corners.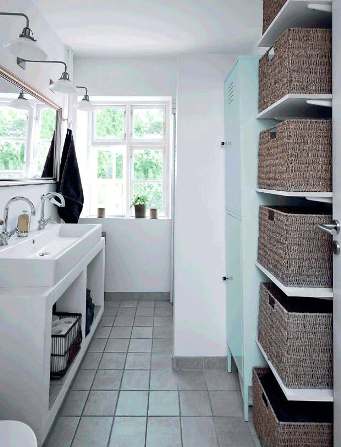 We can maximize the space on the walls, also in a bathroom, thus we can apply different options of furniture or other resources to use this area to organize the stay.
With a shelf, with cupboards, or high furniture we will manage to promote the surface that the walls offer, especially in case of narrow rooms. The shelves or shallow furniture are ideal, as remaining a minimum of space, not hinder movement while offering new spaces for storage.
If you incorporate some shelves to the bathroom, you can choose between different materials for both the shelves as for the brackets. With this option while adding texture to the decor, you may take advantage of corners that are difficult to access or where it is not possible to integrate other furniture.
An alternative to the shelves is the different accessories, we want to have within reach of the hand in the bathroom, distributed in each of the shelves, but this implies an order to detail, so that the room looks visually clean and avoid cramming object. But we can also resort to a simple solution: boxes and baskets, within which we can store everything!