When you need a stay at home to set up an office, but the square footage are not enough, we must recreate thoughts that makes the most of the space available in each room.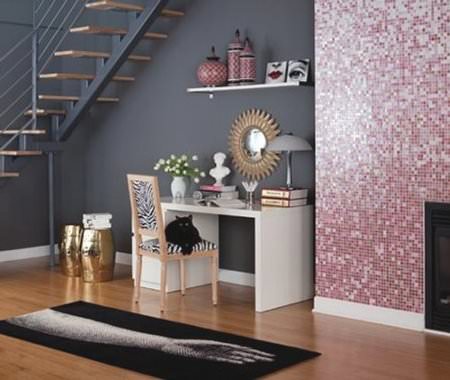 Sometimes, many households need to allocate a housing sector for the use of specific activities such as study or work, and this is directly related to the tasks that people perform.
But when you do not have space to set up an office, room to work, a possible solution is to use an area or corner of a room, such as the living room, bedroom, or kitchen, so this function share their square meters with a small office.
The image shows an example of how it has maximized the space of a room. In the area under a staircase, and next to a fireplace is provided a firm or office with an elegant and harmonious aesthetics.
Read Also: Small box room office ideas
To maximize space, it is advisable to choose sober office furniture, pure lines, and avoid, by contrast, parts of large size, in this way, not be recharge visually the environment.
To get an office at home, comfortable, elegant and harmonious, also will have to pay attention, not only to the furniture that integrates this room, are important, the colors, textures, lighting, coatings as well as decorative accessories.
The office has managed to create an elegant and stylish atmosphere; it fits well with the decor of the entire stay. A trick to give more depth to the walls, use a paint in dark colors like black or deep blue, with these pallets suitable results are obtained as in the case of the office.
For the decoration of the office have been chosen accessories that complement the rest of the environment, and the touch of drama, dark gray walls that surround the office, add charm to the interior.