If today's minimalist, hi tech styles do nothing for you and you prefer something more traditional that makes you think of a bygone age, you may find yourself drawn to style from historic periods when it comes to your home interiors. Equally, if you are working on an old house that already has period features like old style windows or beams, it may look odd to try and decorate with a trendy modern style.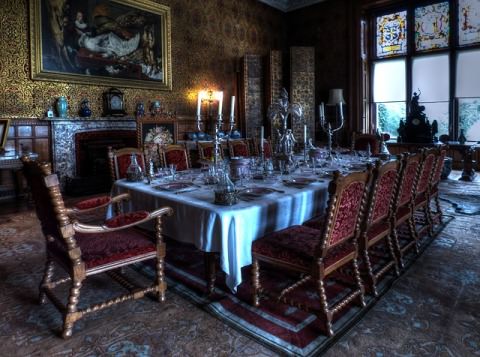 Whether it is a style choice driven by your personal taste or the age and existing look of your home, there are plenty of ways to achieve a period style in your property using replica pieces and period inspired furnishings. However, for many people, the more authentic touch that using real period materials gives can be even better.
Here are some ways to incorporate antique or reclaimed materials into your interiors:
Reclaimed Flooring
Your floor should be one of the most lasting pieces of work you do on your home, and you know that when you use materials that have already stood the test of time you will be getting something that will look great for decades to come. This is one area where you can use reclaimed or salvaged wood, for example old floorboards from properties of the period you are trying to take your inspiration from. In some homes, you can also consider using reclaimed flagstones. While normally thought of as a material for outdoor use, flags can add an amazing period touch in kitchens or other ground floor rooms.
Your Fireplace
Nothing makes your home look and feel cozier than a beautiful fireplace, and this is an area where you can use all kinds of antique or reclaimed materials or pieces. If you have several fireplaces in the home or are able to build them, you can even use this traditional method as your main means of heating the house. Antique marble fireplaces can look truly amazing and really add the look you want, or there are various options in other period materials like cast iron.
Doors and Door Furniture
Reclaimed or antique doors can make a big statement, and are another way you can make your building or decorating project more sustainable by using reclaimed wood. If you can't find doors of the right size, you can add a period touch to more modern doors with antique door furniture, such as handles, knockers, hinges and latches. These can also be used on cupboard and wardrobe doors to add an interesting, traditional touch to plain, boring wooden furniture and bring it in line with the rest of the things in a room with a period design.
Whatever you like in terms of period style, from Colonial, Victorian, Edwardian or even older, there are ways to create the look using a combination of replica or period inspired pieces and genuine antique or reclaimed furniture, embellishments and building materials. Take inspiration from history and start designing your period interior now!