Long, hot summer days are prime territory for some good, old-fashioned quiet time. A glass of ice-cold homemade lemonade, a day bed, a classic novel, and a tranquil water fountain go together like peas in a pod. Once everything is gathered, the entire family will be fighting over who gets to spend the day lazing on the outdoor bed all while drifting off into the pages of a great book. After all, the summer is far too hot for any household chores!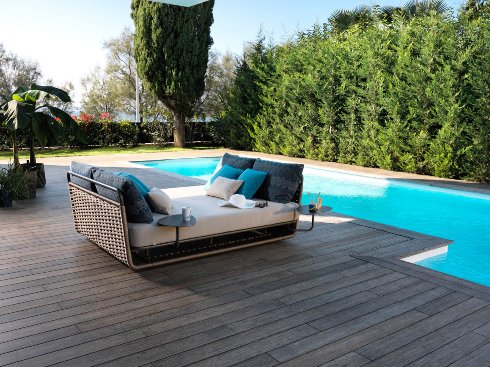 Comfy Daybeds for the Outdoors
An amazingly comfortable outdoor wicker daybed is a must-have for a backyard. Where else is one going to complete his or her summer reading? The next best option is resting against the trunk of a tree, but not every home is lucky enough to have a large shade tree gracing the backyard. In addition to being excessively comfortable, some daybeds have built in shades overhead. This will help to protect any lounger from the harsh effects of the boiling summer sun.
Peaceful Bubbling Fountains
Small water fountains are not only adorable and calming, they are cheap as well! Many miniature water fountains can be purchased for under $20. Larger ones that will produce more water sounds will be under $100.
This beautiful yard addition will truly refresh the mind and spirit, especially while relaxing on a Wicker Paradise outdoor bed. The sound of running water is soothing and relaxing, bringing one back into the serenity of nature. It's perfect for pulling away from the hustle and bustle of everyday life.
Summer Reading Classics
No lazy summer day is complete without a classic novel! There are thousands of wonderful literary masterpieces out there just waiting to be dusted off and enjoyed. Many classical books can be purchased for pennies on the dollar at thrift stores, so there is no need to pay big bucks for a brand new copy. Titles such as The Great Gatsby, To Kill a Mockingbird, and The Scarlet Letter are excellent books that are easily found.
Life is meant to be enjoyed slowly and sweetly, making summer time the ultimate time to slow down, savor the moment, and indulge in a good book. The long, warm days seem to fly by quickly. By the time summer's over, many will be wishing they had taken that time to relax while it lasted!