Are you a homeowner who is planning to do some home improvements? If you are, then getting a deck built in your backyard is recommended. This will be like an extension of the main house where it has space to gather the family and at the same time a place outdoors. Imagine coming back home after a stressful day, you can relax and enjoy the beauty of the outdoors at your very own deck.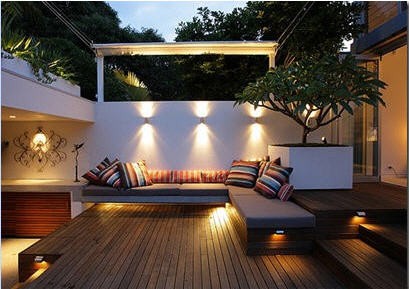 If you're keen to start with your home improvement project, it may be necessary for you to become familiar on the nitty gritty aspects in building a deck. You're not expected to know a lot but it doesn't hurt to be informed so you can make an informed decision on how to carry on your project.
Selection of the appropriate deck type
There are a variety of decks that you can create. What you need do first is to know what kind of deck are you planning to create and know that purpose of this improvement. Different deck purposes will translate to different materials and designs, and it is preferable to know what kind of material you're going to use, so check out your nearest home improvement supplier!
Destination deck: This type of deck is installed detached to the main house. This can be ideal for those who have kids and have lots of entertaining to do. Late night entertainment can be a hassle to those with young kids when the kids are unable to sleep due to loud noises and loud conversations. Likewise, children are spared from being exposed to second hand smoke and booze.
Patio deck: This is attached to the main house. Here, you can spend relaxing time with the family. It can be either be an extension of the kitchen or the main family room. You can also have relaxed breakfast here.
Connector deck: As the name suggested, this is used to connect 2 or more structures together.
Keep in mind the deck activities
As mentioned, different people have different reasons for constructing a deck. Some might be interested to use it as a peaceful retreat for ultimate relaxation. Depending on the materials to be used, you can include a jacuzzi or barbecue grill set and for those who are aiming for restful retreat, a hammock can be installed, too.
On the other hand, there are some homeowners, who love to have a deck for pure entertainment purposes such as barbecuing, parties, grilling and the likes. So chose appropriate decking materials to conform with activities that you'll do with it.
Deciding upon the deck size and materials
For those with medium sized homes or homes withbackyards, it is suggested to build a deck that will not overwhelm the house. Constructing a large deck will not only look inappropriate but also make your home appear cramped.
When it comes to using the suitable materials for your deck, wood tops the list. Many fabulous decks are made from wood and with proper maintenance this will add value to the house. There are multiple reviews and sites online where you can get your ideas from and you can have these as design inspirations to your deck design.
Whether you hire the services of a professional or go for DIY (do-it-yourself) for building a deck for your home improvement, it is good to know some basics before starting out.