There's no doubt that hot tubs add a touch of luxury to your home, offering a way to relax and unwind on your own, or to socialize with family and friends. But how do you go about choosing one? Here are some helpful buying tips.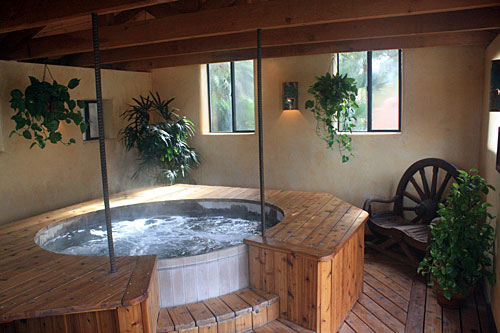 The purchase of a hot tub requires the buyer to make a few important decisions. First, it's important to know which size of hot tub you are seeking. If you are purchasing an indoor hot tub, you'll have to consider the physical space you have to allot to your hot tub. If it is going outdoors, ensure you have a good spot for it, one that offers not only adequate space for the unit, but easy access from the house and also privacy. In addition, it's not a good idea to choose a spot for your hot tub that is under overhanging tree branches that could drop leaves into your tub.
Next, consider how many people you anticipate being in your hot tub at any one time. Once you have that number, multiply it by 75. That will give you an approximation of the number of gallons' water capacity your new hot tub should have. If you are going to be placing your new tub on your outdoor deck, be absolutely sure that the deck can withstand the weight of the tub when full, generally about 150 lbs per square foot. Even if you install your hot tub directly on the ground, it's necessary to install a cement slab under the hot tub to prevent it from sinking into the ground underneath.
The next important consideration when purchasing a hot tub is your budget. There's a wide price range for hot tubs, from about $3,000 to upwards of $10,000 depending on the capacity, size, features and other considerations. Before you go shopping, it's important that you have a clear idea of your budget. Remember: There's more to consider regarding your budget than just the initial outlay to buy the tub, too. A reputable dealer can give you a good idea of what it will cost to run your tub daily, including the energy needed to heat the water, essential cleaning supplies, etc.
You'll also have to decide what kind of material you want your tub to be made of. Most are made of acrylic, which is easier to clean and maintain than fibreglass models, and they last much longer. Although it is possible to find hot tubs that are made of wood such as cedar, purchasing one of those tubs should be done with caution. Wood spas require a lot more upkeep and care than an acrylic model, and they won't offer the same degree of comfort offered by the molded seating you'll find in acrylic or fibreglass models.
Buying a hot tub should not be done without careful consideration of all of these factors. Careful consideration of all of these things will ensure you choose a tub that meets your space requirements, lifestyle, and budget.