The front door of your house is the first thing you see and welcoming your guests. Therefore this element can also be considered a sign of identity and style. If you're thinking of giving a new look to your home, we explain how to paint the front door of your house, redecorate the main facade of your home by following these tips.
Choose the color. This is the main part, as each color has its meaning and will be the hallmark of your home. We propose these colors: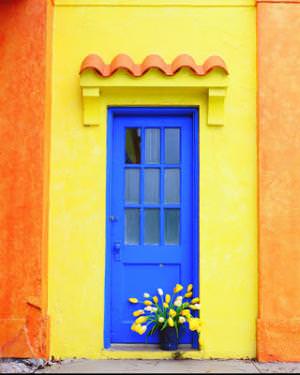 White: If you want to give a feeling of peace and tranquillity, this is the color that you select. It combines with most colors and facades. The downside is that it's often dirty and stains are more noticeable. So if you decide to paint your door this color you should clean it often.
Red: This is one of the boldest, plus stylish, modern and contemporary colors. With this color, you will give a southern style to your home. On the other hand, red will increase the Feng Shui, which will improve your quality of life and increase good energy in your home. If you decide to paint your door red, call attention, we would recommend it, if you have your door to the south.
Blue: Like white, transmits serenity and calm. This color is typical of southern and white houses. Paint your door this color denote wealth and loyalty. If you want to convey wellness within your home, blue is the best color.
Wood. Option is the classic and fits most styles. Have multitude of varieties and a large palette of wood. Choose the one that suits your facade style.
After choosing the color, ready to paint. First, place a cloth, plastic or cardboard near the door. This prevents the soil from getting dirty with paint.
In order to not hinder the process, try to remove the knob and lock the door. If not possible, it is recommended to cover them with plastic to not spot them.
Clean the door before painting. You can use a mildew remover, you will find at any drugstore or specialty store. You can also make a mixture of one part bleach to three parts water. Either applied or allowed to dry cleaners.
Covers the contour of the door with masking tape, so make sure the painting lines are straight and avoid paint those parts you don't want to. Then pour yourself with a spatula and remove the paint from the door. If yours is metallic, you can use a wire brush to remove rust.
Then, using medium sandpaper grit, remove the paint and sand the door. When you get ready, pass a damp cloth to clean and remove dust. If the door has holes, apply filler metal to the door of this material or caulking if it is made of wood. So you let the perfect and smooth. You'll find both products at any drugstore.
The time has come to paint the door. Give it, first a layer of rust paint and sand the door again. Then repaint the door with the antioxidant. Once dry, gives the first coat of paint and let it dry, take note that it can take up to a day. When it has dried you can give the second layer … And list!