The kitchenettes are a modern choice, as well as practice. Of American origin, more and more households who choose this type of cuisine for lack of space. Joining the living room making one serves several functions, often brighter and less space. If you're planning to decorate a kitchen here we give some tips to take advantage of the space to the maximum.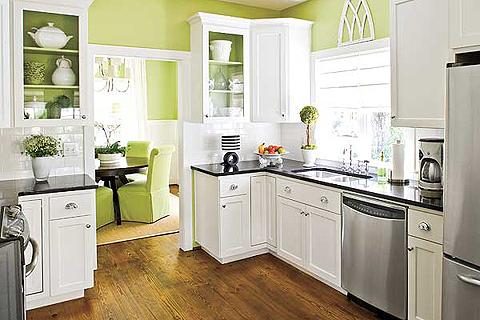 When decorating a kitchen, must bear in mind the importance of differentiating three environments: living room, dining room and kitchen. Given this clear premise, it is easier to organize all three rooms.
If the space that you have is limited, we recommend that you opt for very light colors. Ideally choose white color for kitchen furniture and beige tones to the lounge. So get greater feeling of spaciousness.
If you like bright colors and want a more entertaining kitchen, we recommend introducing the red or orange, for example, in extra elements. For example, in the stools, bar or on the floor. These colors are tired with time, so if you use them sparingly, you get the same effect and not get tired so quickly.
It is important that all spaces are as orderly as possible. Note that you will see the kitchen from the living room and dining room, so the more orderly the kitchen is better feeling of harmony you'll have. In this regard, we also recommend you use paneled appliances, to become more unnoticed.
To get spaces "separated" visually, we can use different colors on the walls, depending on the stay. That is, use a color in the kitchen wall different from the wall of the living room. Another option to get different environments is to use different materials on the walls. That is, use tiles in the kitchen and paint on the walls of the living room.