If you are a lover of vintage decor and are willing to fully decorate your home with this beautiful and delicate decorative style, this article you will like much, since it's decorate the bathroom with vintage style. In thousand ideas we brought you hundreds of ideas for vintage decor for the living room, the bedroom, the hall and into the garden, but for the bathroom we had prepared none until now.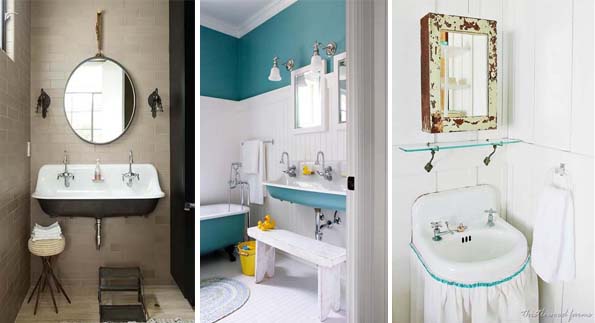 Decorating a bathroom with vintage style is relatively simple. Simply rely on a particular object, the sink. If we introduce a washbasin in vintage style, the rest is decorated practically alone. If you still have the possibility of getting that old basin of metal that your grandmother was at home, you have a great opportunity to decorate your bath room. If not, is not very difficult to get one in any antique store or flea market and cheaply.
By this do not mean that if the sink is not changed no one can decorate the bathroom with vintage air, of course you can. We can change the wall sconces, decorated with pastel colors, add a mirror with a vintage frame, vast untreated wood, rectangular white tiles and metal with an aged as copper for example are some of the elements that support us for this decor.