If you have to renew the bathroom and in your head, flow many ideas. Stand up and think of a formula that has functional spaces that are at the same time elegant. At this point we have to recommend that you think about adding the microcement in home bathroom, especially if you like modern and practical spaces.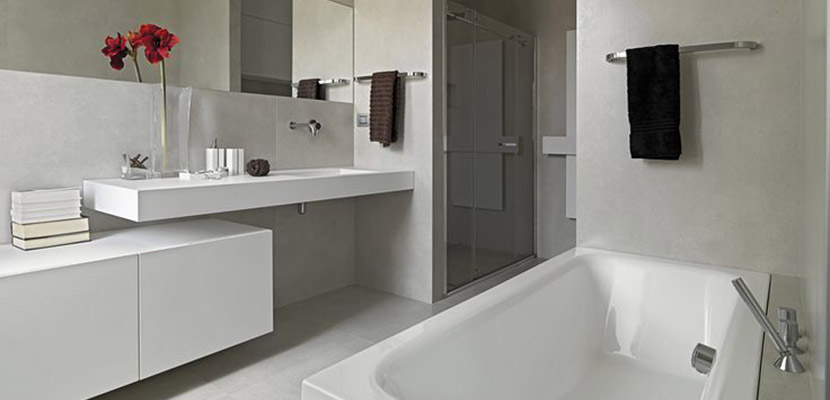 Microcement in bathrooms is a fairly recent option, that's why we never see it in more traditional bathrooms, but it has become an interesting idea for a current bathroom and also very comfortable and functional. If you want to know more about microcement in bathrooms, pay attention.
What we know about microcement
Microcement is a very modern type of coating, which can be applied on any type of surface, so it is very versatile.
It is composed of a cement base, but it is more than that, since this high quality cement is mixed with polymers, aggregates and fibers to create something totally new, a coating that provides many more benefits than simple cement.
When we think of the microcement we imagine it in gray tones, because that is the most usual thing, since it offers very serene and elegant spaces.
But the truth is that we can mix it with pigments and get other tones. In general we can say that, microcement is a very versatile and quality material, which allows us to enjoy great advantages.
Properties of microcement in bathrooms
The microcement can be included in any space, from the terrace to a living room or commercial spaces. However, we see it a lot in the bathrooms, and this is because it has some great advantages for this particular place.
The elegant and functional touch
If you want to have a minimalist style bathroom, that is elegant and has a functional aspect, then you should resort to microcement.
This material allows us to make simple and smooth surfaces, as well as showers that have continuity with the ground, which is very practical. The basic tones give it elegance, and its simplicity is very functional.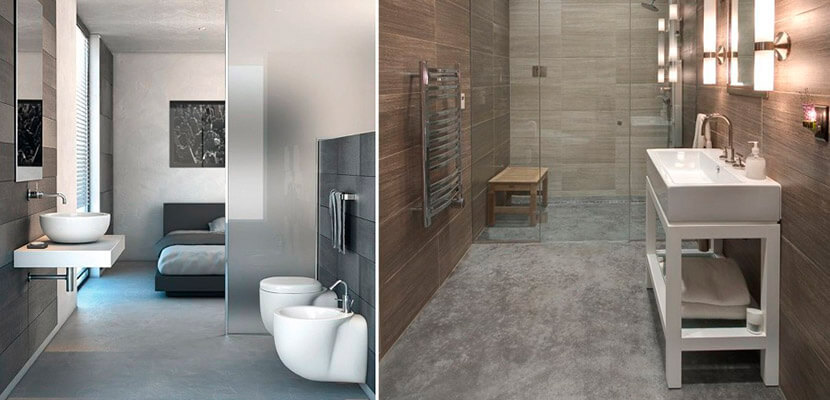 The high resistance
This coating material stands out for having a high resistance to changes in temperature or humidity. That's why it can be a great choice for the bathroom.
It is a place where there is humidity, which sometimes affects the materials, and also has variable temperatures. In short, it is chosen for the bathroom because it is simple but durable and of quality.
Anti-slip and hygienic
If this material is chosen for the bathroom, it is not only because of its great resistance, but also because it has the great advantage of being non-slip. Perfect for bathrooms where there are children or elderly people, thus preventing accidents.
This is one of the advantages that more tilts the balance when choosing this microcement for bathrooms. In addition, we are talking about a material that is not porous, and that being resistant to moisture is more hygienic, preventing bacteria from proliferating. The best choice for the whole family.
Suitable for all surfaces
Microcement is a coating that can be applied on all surfaces. That is to say, we will not have to complicate ourselves too much, since we can apply it on walls, floors and ceilings.
And since it is so sober, in case we want to add tiles or colors on the walls, the effect will be ideal. There is nothing that does not combine with these smooth surfaces. Its great versatility has also made it climb positions in the favorite materials to build spaces.
Choose the pigments
As we have said, the vast majority of people choose the typical gray color of cement, but in this material you can add very varied pigments. We do not have to limit ourselves to a single tone when decorating, which gives us more possibilities.
Decorate and match with microcement
The microcement in bathrooms is often used with a much defined style, which is the minimalist and modern style. It is a sober and simple coating, which provides a functional aspect. However, we always have ways to make a more interesting decoration.
Check More: Touch of style in the bathroom decoration
The textiles that you are going to add in the bathroom have a lot to do when it comes to giving warmth to a bathroom with microcement. If there is a disadvantage that can be noted in these bathrooms is that the final appearance can be somewhat cold.
Hence, we can use decorative details to add warmth. Colorful towels, some carpets or bathrobes make us see the most welcoming space.
We can also add wood, which is an equally simple material that contrasts with the microcement and adds that necessary warmth. Of course, they must be treated with wood or tropical origin to withstand moisture well.
As this material can be mixed with almost everything for its simplicity, you can always add some interesting tiles. Hydraulic tiles with beautiful prints, or with a shiny finish to add light, since the microcement has an opaque finish.