With a practical distribution of furniture and a color scheme that is the balance in the black and white, this kitchen offers different areas and a modern and attractive look. It is a bright, airy environment, where the decor includes details that add character and functionality.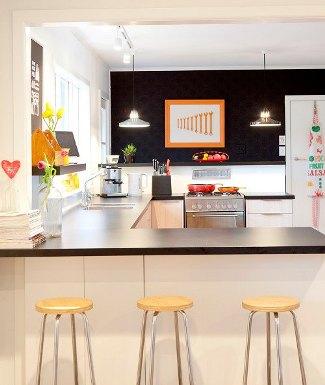 The fitted kitchen has a modern, pure and simple design in absolute white lines, which is the contrast in the black. This color has been applied to countertops, shelves and sections of the walls, getting an interesting visual effect.
Distributed in a "U", cooking involves a generous work area with furniture, appliances and accessories that complete a set that meets the needs and habits of urban life. The white dominates the furniture, and it is interrupted with black countertops, joined shelves and walls from half-height and up to the roof again show as black lashes out to create visual impact.
On this dark base achieved highlight decorative details as well as hanging lamps.
Net and straight designs, delicate accessories that decorate, contrast and brightness, complete this kitchen does not hesitate to include in one side a comfortable bar for breakfast, which is crowned by adding some stools to stay.