With a touch of creativity, good ideas and even everyday items that perhaps already have at home, a kitchen corner that incorporates color and new textures enhance its beauty. We not only refer to an aesthetic appearance, as the functionality also adds to these decorative proposals that invite to organize and decorate.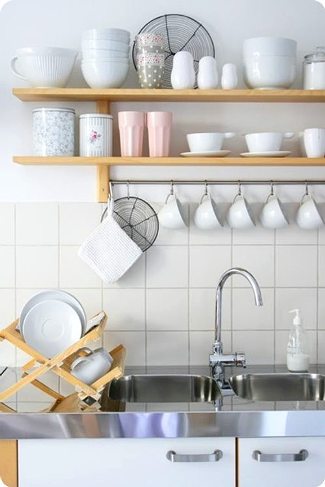 An open shelf is an alternative to endow a contemporary kitchen with a refreshing air.
Cabinets that integrate this environment can be updated with a few layers of paint, fresh and innovative colors, and even removing some of these furniture doors, this sector will become an open shelf, stop hovering a preferred collection,memories of family, or simply the crockery and utensils we use daily in our kitchen.
Shelves help to make the most of vertical space of the room, without neglecting even the most difficult corners.
In addition to choosing attractive shapes, colors and materials for utensils stored on shelves, we can add unexpected accessories, and decorative details such as a crystal vase or a small box that will add charm to the decor.
To achieve a decorative effect on shelves or racks, paint them in colors that become a point of attraction. One idea is to paint the shelves in a new tone, or the bottom of the shelf, so we'll get all the utensils that are placed against the wall stand out.
Add rails, hooks or other accessories to increase the storage capacity of the shelves, and have everything we use in our kitchen at hand, without compromising or a little aesthetic and printing a wink of interior style.
Dare to update and maintain order in our kitchen with a combination of earthenware, crockery, cutlery, tea towels, accessories, books and ornaments on shelves.