We bring you an ideal proposal renovates the kitchen, creating corners where you can print your personality; define a character to decor that gives life to a cozy, trendy and comfortable environment also.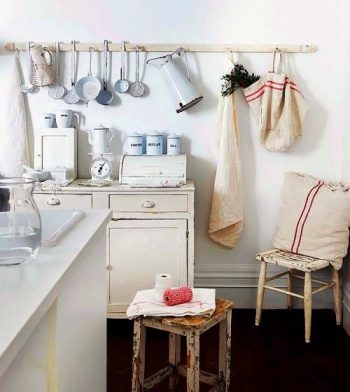 In this case it comes to recreate a corner with vintage-inspiration, so we just need to change some elements of utensils that allow the air so special to have parts of other times, returning to receive a new opportunity of use within a contemporary home.
On a shelf, in a rack or on a stand with hooks, collect household goods, including textiles and accessories that we use in the kitchen so they can show off, appreciated and leave them at your fingertips.
Choose antiques, brass, ceramic, porcelain or earthenware, better if we have a collection that want to decorate this room, or even mismatched pieces that offer a lovely nod to the composition.
An old stool decorated with a cushion can be handy to have in the kitchen as a booster seat or a sideboard or vintage cupboard to expand warehouse capacity.