Every time when we enter at home it is important to feel that we are comfortable with our surroundings, and in this sense we are referring to contemplate the spaces in a comprehensive manner, encompassing the physical as that which is intangible. Today we propose to create a cozy, practical home and measure of each family.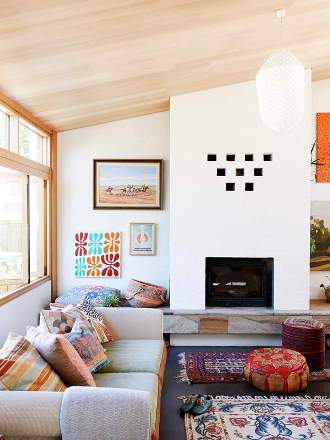 There is now an easy and fast access to information of all kinds, when it comes to decorating and interior too, magazines, blogs, online stores, catalogs, mobile applications, software design and virtual manipulation colors in a room, the universe of large stores like Ikea, finally, a wealth of proposals. All this serves as inspiration when renew decorating or create a new space, but something very important is "customization" every corner and gives life and unique character.
In addition to the suggestions and ideas we can provide to each room of individuality, because that was how we express ourselves within the home. If we make an inside look nice, it is not enough to introduce only trends, we will gain even more with a formula that allows creating sensations.
A house lives, it is dynamic, there is no perfection, follow our movements, everything can be adjusted to the pace of its inhabitants, its habits. What better to create comfortable and functional rooms, so the proposal is to be premised provide them with warmth, which can be achieved by avoiding the formality and structure of spaces.
In a kitchen, for example, the basic scheme imposes include appliances and furniture, providing storage areas to organize set and utensils, food and coffee, work surfaces as well, but what if we introduce splashes of color, creative touches to avoid impersonal space.
To achieve this is not essential to have a significant budget, change and renewal is possible without making any large expenditure. Breaking diagrams, breaking the uniformity, use what we already have.
We are going to need ideas and ingenuity, a dose of manual dexterity and perhaps address some handmade project. The idea of fun is not attractive decorating, creating own molds and unique to our home.
In the rooms are classic design furniture come alive through upholstery that mix different shades, and premium seats also create an attractive framework by textiles with various prints, the result is displayed comfortable, attractive and functional set.
Pieces of art created special places and give joy to the walls, containers of various designs have been chosen and sizes to accompany the freshness offered by the plants, and objects of daily use are merged in environments with souvenirs, details with soul and charm, creating an inviting and casual outfit.