It is now easy to find houses and small apartments; therefore for each stay is functional and comfortable, the decor presents multiple alternatives and solutions. In this case, the kitchen is the protagonist of a trend setting and in it a small dining room merges with super attractive thoughts.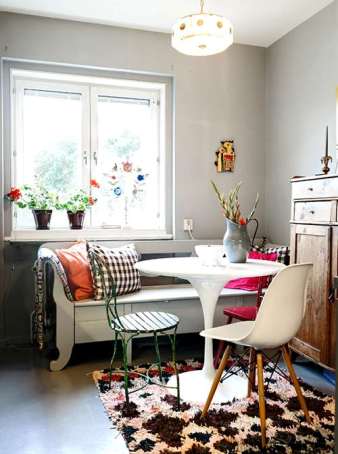 If the space of our kitchen is very tight to create a dining room, so it's time to lend hand to the creativity and decorative solutions, to maximize every inch without losing style and personality.
This contemporary kitchen is integrated with dining room, which is provided on a corner of the room, so that the available space will make the most. This location allows moving easily around the kitchen, using only one corner will be perfect to place the furniture that creates a small area for meals.
The option presented by this environment is extremely suggestive, as it has created a modern appearance betting mismatched parts, forming a set of dining table of the most daring and informal. This is an idea that allows you to print a single wink and style to the room.
We have chosen chairs and furniture models that are all different from one another, and form a full set of joy and originality. Each piece is different to the other, including vintage chairs are appreciated, tulip table, a classic design and different materials such as iron and wood, also mixed with textiles to add color and warmth to the atmosphere.
A continuous bench offers generous seat, wearing pads that adds more comfort. This piece is ideal to take advantage of the surface of a wall, for supporting it on it will have ample space to gather around the table and add diners.