When we decorate the house, one of the rooms in which we can give free rein to creativity is the bathroom. Of course, space, light, or shape of the bathroom, are some of the factors that allow us to play more or less items. However, for small, there are always solutions that help create useful, enjoyable and above all, practical spaces. The blue is probably one of the most recurrent colors when decorating a bathroom and this can make it by mixing many elements: from the walls, toilets, towels or some other object such as a table or a floral motif.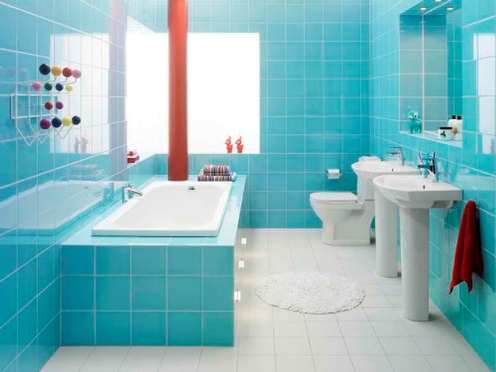 Blessed with a big bathroom
If you have a large service space, of course you can opt more alternatives when it comes to decorating a bathroom in blue color. In this case, you can choose the walls in blue tones and choosing sanitary in white. Thus, sanitary highlight on a bathroom which is basically blue. There are many types of tiles, from large blue patterned tiles with panels or friezes in blue tones. The choice depends on individual taste.
Vintage blue bathroom
To decorate a bathroom in blue, do not have to discard the old or vintage style. How do I get it? Through a tub of this style, this is the main element of the room. Of course, if you want to give prominence to the bath, it should be white and blue must leave for walls and floor. If in addition, you have more space to place a little blue bathroom sheets.
Tops in blue
Another very interesting alternative decorate the bathroom in blue is choose different shades of blue on the walls and sanitary. You can choose tiles of different shades of blue and the top of the basin in dark blue. In this case, the ideal floor is wood or white to contrast with the blue as the rest of the bathroom.
Blue sanitary with wooden floors
If what you want is to have the blue sanitary, then you can do it, there are shops where you can find sanitary of different shades that let you play with the other elements of the bathroom. The blue sanitary combines well with white or wood floors and white walls that help contrasting blue with white. You can complete the decoration with a white and blue carpet.
Inspired by the blue bathroom
To decorate the bathroom in blue not need to fill it with elements, walls or add to this tone. Simply lining a wall of blue to make the sensation upon entering the bathroom precisely the atmosphere you want. In this example we propose, the top and bathroom cabinet are made of wood and blue sanitary. If we look closely, we'll see that the soil is not of this color and decorative elements are not blue, but we have chosen a wall big enough and decorated with blue tiles, which gives us the feeling we want.
Get decorating with accessories
Another good idea to get the room we want is to do it through their additions. These are: a towel, a photo frame, soap or flowers in blue hues. The rest of the bathroom could well be white; so that the blue touch we are giving through the decorative elements.