Are you looking for decoration ideas for the new season? With its springy and colorful character, the plants always give a cheerful touch to any place. And now that spring has begun, we invite you to be encouraged with the floral decoration. Below we give you some ideas for you to give any corner of the house a little color and freshness of the season.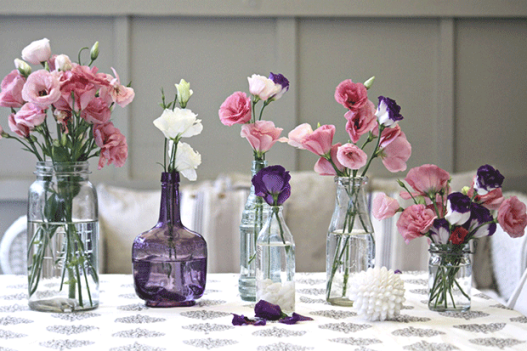 Glass Containers
Try to boost the space by mixing glass vases of different heights and designs. All you have to do is cut the stems to the height of each vase and you will find a perfect floral decoration. To give a greater luminosity and elegance to this arrangement of floral decoration, use white flowers or soft tones; the best options may be freesias, gladiolus, Calla lilies.
Bouquet of flowers
It is the perfect decor for the kitchen. It will brighten your eyesight while you're cooking. Leave a little space on the counter to make a small gap to this floral decoration that will brighten the kitchen giving colorful and joy.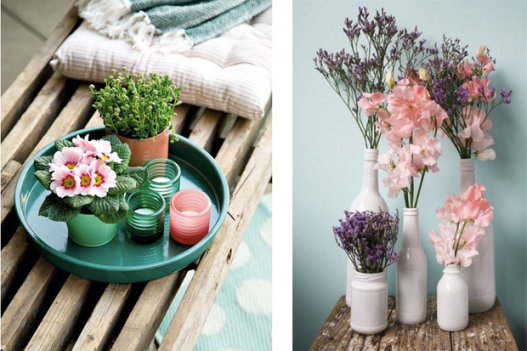 Ceramic pots
A good idea of flowering decoration is in ceramic pots. You can buy the type of plant that you like and transplant it to a pot with colorful spring and decorate with them any space of the house.
Mini bouquet of flowers
The idea of floral decoration perfect to surprise any visit you receive. An easy and simple idea? Convert a party hat, make a cornet with a cardboard; add a ribbon of satin and put inside the small bouquet of flowers.
Relevant: Basic steps for green or eco-friendly decor
Blue vases
It is true that flowers are the main element of a floral decoration, but vases are also a decisive element. If you are looking for something that is very visual and flashy, opt for vases of colors, specifically blue. The intense colors give the floral decoration more protagonism.
But beware, our recommendation is looking for translucent vases; it have a great advantage over the rest as it change shade according to the clarity that exists in the room.
The roses
There are always options of the most validated, and are able to completely change the style of any corner of the house. A floral decoration perfect for places from the fireplace of the lounge to the entrance or hall, or even the bedroom.
Final Note
Every home environment is perfectly capable of radiating joy and vitality, but if it is with a floral decoration, better than better! It is important that you place it in a place where it can be perfectly appreciated, that is, where you spend most time in your house.
This way you can be influenced by the positive and cheerful energy that the flowers bring and you will transmit a feeling of tranquility and freshness with just entering the house.