In this current hall decoration is dressed in pastel colors, a combination of textiles, accessories, furniture of contemporary lines, and as a result an absolute calm and elegant environment.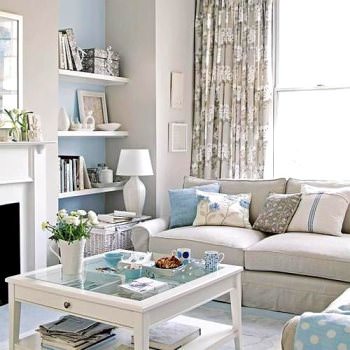 In either inside the pastel colors can be the protagonists and it is possible to achieve attractive atmospheres when also include more intense hues. These tones get ideal atmosphere for relaxation, simplicity and the ability to customize any space.
Fresh or welcoming, simple or sophisticated environments, everything is possible to achieve a successful combination of pastels. Decorate with them allows you to create interiors with character and bright.
A bet to decorate a contemporary house is in a same color chart, which highlights the cakes; while with small decorative details add touches of fun and intense colors that revitalized the environment, such as a table or cushions on the sofa.
Pure white is also present in all pastel colors, a perfect alternative that creates a harmonious environment, adds brightness and enhances colors that accompany it.
Overlapping textures also adds charm to the decor of this room. We have chosen fabrics with different patterns for the sofa cushion, other than for curtains and carpet, and always with a common denominator, the color scheme adopted.