The classic black front door is a popular choice for many families and their homes. It represents chic, elegance and class, which completes the stark, white exterior porch of luxury homes. However, there's one thing that the black door most certainly is not. That is unique. The holiday season does throw up a great opportunity for you to make your black door unique this time of year.
Truedor, providers of black composite doors, have put together this quick guide for decorating your black front door for the holiday season. Here are their five suggestions:
Glamour and Lights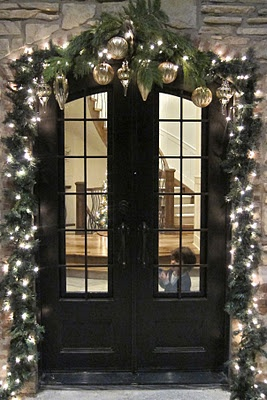 One of favourite Christmas decorations are those simple fairy lights. They give off a glow of warmth during the cold, bitter evenings that the month of December brings. Draping some fairy lights around your front door with some added metallic baubles will help your black door to shine out this time of year. The baubles also add an additional spark as they reflect the light to enhance that magical feel this time of year.
Make it Personal
Giving something a personal touch makes it that little more special. And what better time to add a personal touch to something than at Christmas; a jolly time to show your love. Let your personality shine this holiday time by adding a unique feature to your front door.
The above image is a great example of this – a simple, yet effective snowman shaped in their door number is sure to put a smile on the faces of those who walk by. This personal snowman decoration on the front door even comes with a top hat and festive scarf!
Whimsy and Wonder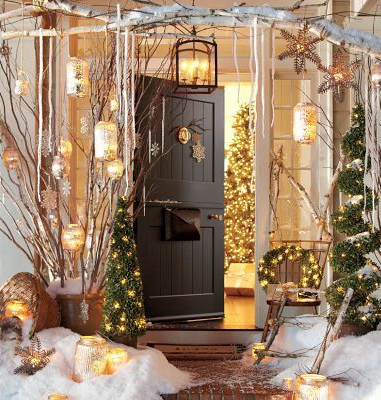 Christmas is the time of year when we see more spectacular scenes than any other time of year. And what could be more fitting this time of year than a Winter Wonderland scene? A black front door provides a perfect backdrop for this whimsical and ice scene on your doorstep.
Add a Gift
When you think of Christmas, one of the first thoughts that comes to everybody's mind is presents. Immediately you think of them under the Christmas tree, ready to be opened on the big day. But who said presents should be kept underneath the Christmas tree? How about creating something unique by replacing your plants with some oversized presents by your front door this time of year. Make the boxes extra special by adding lights inside to give them that extra special touch of sparkle this season.
Sparkle and Colour
Have children? The door above is a perfect example of fun for all the family involved as they have transformed a standard black door into something bright and colourful in time for Christmas. Children have a fascinating imagination and are perfect for adding sparkle and colour to anything – so how about getting them involved in the decoration of your front door this Christmas?