When it comes time to decide our home decor, many things that we must consider, among them, one of the most important is the style of decoration that we use in our home. For this, we can use a decorator expert in interior decoration, or else we can turn to specialized journals in order to look the best ideas from the latest trends among which it is the so called gold decoration.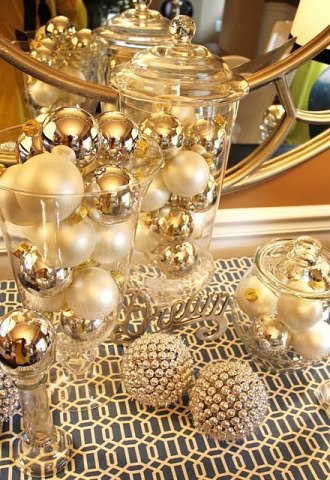 It is a type of decoration based on the use of golden color under the gold color simulation, which will give greater sophistication to our home and an air of luxury and grandeur that will give our home a magical and unique touch.
This gold decoration style is inspired by ancient times when luxury and opulence were a constant in the homes of high society. Of course, with the difference that it is not necessary to have a big checking account to perform this type of decoration.
One of the advantages of gold decoration is that it gives our home a touch of elegance, which can be used in each and every room of the house, including the kitchen and bathrooms, giving little touches and small brushstrokes in the decor with golden patterns, we do not overburden our decor with these reasons as this may damage the sense of elegance and sophistication of this type of decoration.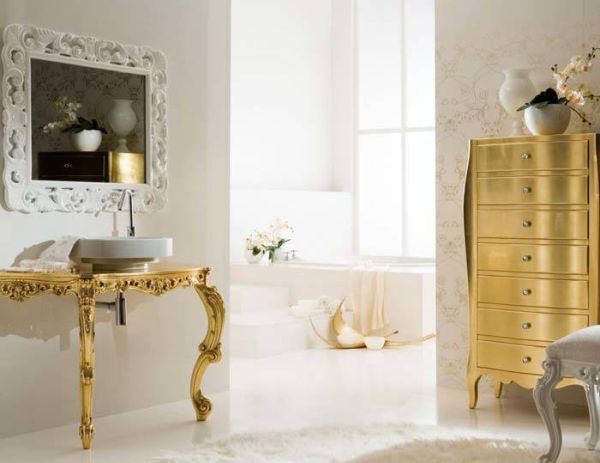 What colors to combine with the gold decoration?
Well now we know the basics about how to decorate in gold, but what other colors do we have to choose apart from the gold color so that they are compatible and the effect is as attractive as we want? In terms of the combination of colors that we use to make this type of gold decoration give us the result that we are looking for, and choose simple and elegant colors in black and gray, and some matte color as white.
Styles to decorate with gold
As we have mentioned, gold is a very versatile color that integrates very well with different textures and finishes, which makes it ideal to integrate into different styles. These are some of our favorite styles that we like the most to see with gold:
Glam Style: It is one of the styles where we can see the most textures in gold. Lamps, end tables, mirrors, wall decorations, and much more.
Scandi Style: Although in a scandi style we usually see very natural and sober touches, gold is one of the most elegant ways to give these interiors more light and elegance. You can combine a marble table with legs or base in touches of gold.
Art Deco Style: This look combines the modern with the vintage very well. The mix of shades like blue, gray, black and gold are one of our favorites.
70s Style: In this style, more sober tones such as black are mixed with more intense colors such as orange. Take advantage of this combination to add a touch of elegance and light with gold. Vases, lamps, mirrors or even candles, can become your most desired objects.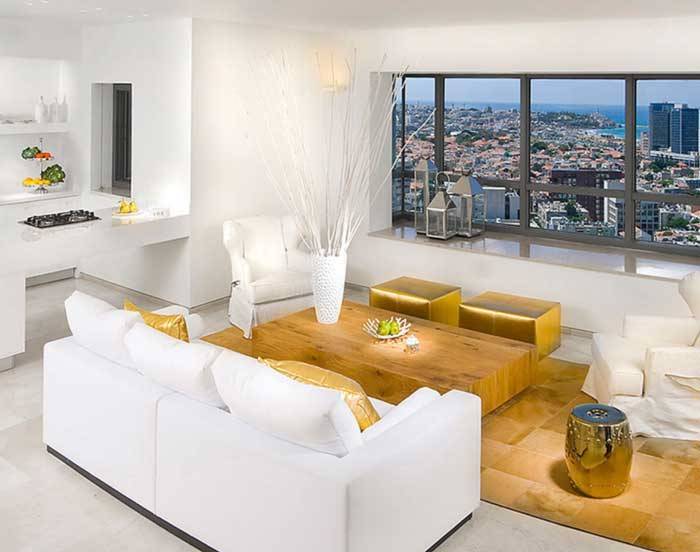 Gold with wood, they make a good duo
Materials are important too. And in this sense, wood is the best material for gold decoration. The polychrome are also allowed.
We have talked about color. But apart from knowing what colors go to gold, it is also useful to know that, depending on what colors you put next to gold, you can create different environments in gold. So if you want a room with a sophisticated air, mix gold with black. If you want elegance but black does not convince you, white is also acceptable. While providing elements in pink, purple or orange you will be able to create a very beautiful exotic environment.