The industrial style is an excellent choice for decorating your home, as long as you like simple and straight forms, basic colors and keep your home minimum decorative elements. This style offers a vision of space, order and also of modernity, because if anything represents the industrial style, it is the most current decor.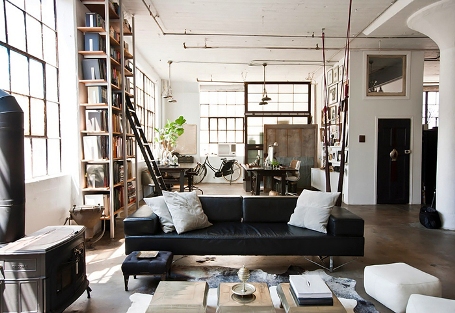 Keep in mind that gray is most common color of dwellings with industrial decoration, thus, may not be best suited for small spaces or homes with low-light, while in the second case can be solved with auxiliary artificial light.
The furniture is usually metallic, sometimes used in contexts for which were not designed in a principle – for example, the use of a metal bunker as a side table in the living room – in the same context can be used as decorative items – it is possible to use drinks bottles to decorate, mechanical gadgets, etc.
In such designs, the trim details of furniture and decorative objects, lack of harmony with the stay, instead, industrial integrates seamlessly with the rectilinear furniture without delicate or too elaborate endings. Although the bedrooms and the other stays follow the measure, it is not recommended to take it at the foot of a letter, because the bedrooms are rooms for rest and industry is not the most appropriate for those areas of the house.
An interesting detail, to create contrast on the stay, is to add some indoor plants, which will be awarded a more vivid vision. Another interesting aspect of these spaces is that from the industrial design, you can choose a theme in particular and the best is that there are so many tastes and interests.