The dining room is one of the most important rooms in the house. In our culture, when we do something to celebrate around the table enjoying a good meal; therefore, it is time to take care of the decoration of this room.
Therefore, we have prepared this article on how to choose the dining table so that all your celebrations go off without a hitch.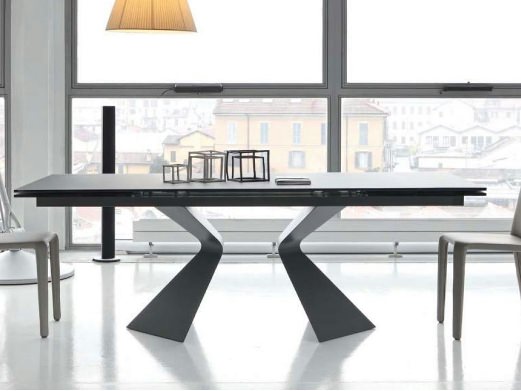 In art
If your home is decorated with contrasting colors and textures and meets cutting-edge style, your ideal table would be the big Table by Bonaldo. It is modern and fun with its legs intersects. Choose the color version to give that touch hearted. The chosen colors are coral, orange, green and purple.
In the avant-garde is often used urban style with many asymmetric touches like give big table legs. This table looks amazing, and it certainly succeeds.
Minimalist style
If you want to enhance the natural light and get a very pure and simple decoration, then to know how to choose the dining table ask yourself buy glass tables. This material gives much lightness to the decor in transparent versions and gets a sense of continuity in the room.
Our favorite is Sovet Italia Frog. What surprises us is that it is entirely made of glass, even the legs. It also has a small decorative skirt. Combine it with transparent chairs and the look is complete.
Rustic style
A total spin nut. It is normally reserve for countryside environments and mountain much promoting the place natural materials such as wood and traditional architectures. But even in your home town you can get a room with a rustic touch.
Industrial Style
This style closely identified with lofts where materials such as glass and metal, recycled as pallets and colors in shades of gray elements are used. The envelope can be wood, glass or ceramic. Whether you prefer but what really catches the eye is its labyrinthine basis: it is made of steel tubes that create different angles and spaces.
A table with surprise
Of styles is all very well but what you want is to make the most of your dining room and not only share a good meal with your loved ones, but make one long table. But what if it were around a pool or a football? Well, it is now possible with tables as Fusion tables; that yes: you'd be hard put your guests at home.
Do not forget that the dining table must be added comfortable chairs that fit the style and materials of the table.