Every bathroom has certain things in common: Basic fixtures can vary in style and form, but the function is all important. And white remains the color of choice for those basic fixtures. Even though trends come and go, you will never go wrong if you stick to basic white for the important trio of tub, toilet and vanity sink.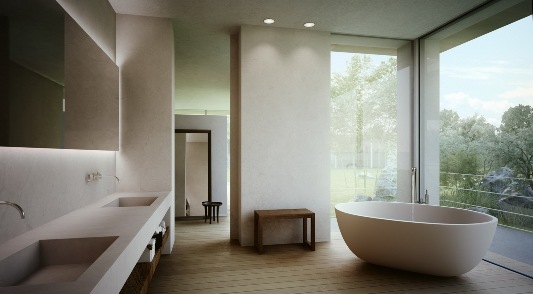 White, however, need not be bland or boring. Fixtures can be functional and stylish at once, and white conveys freshness and lasting appeal rather than a sterile, colorless personality.
The additional appeal of white is that it can be updated and altered very easily with a new coat of paint on the walls, a change of towels and shower curtain, even a vase of fresh flowers every time you feel a needs to perk things up a bit. It's almost as easy as snapping your fingers and wishing for a new look.
You may also interested: A touch of style in the bathroom decoration
Doing White Right
The best part of sticking with basic white bathroom fixtures is that you can then go in almost any direction with cabinetry, wall covering, flooring, tile and colors. Your bathroom can be all white, simple and neutral, rustic or Euro-chic.
You can enliven and enhance its appearance with any number of stylish accessories. Add a funky chandelier in the bathroom. Start a "living wall" of greenery. If you have a window, consider building a privacy wall to surround a small landscaped area, making it unnecessary to cover the window for privacy.
Return to Tradition
Retro looks, including freestanding claw foot tubs and traditional shapes in pedestal sinks, are popular for master baths as well as for functional guest baths.
With the addition of a separate shower and a well-designed floor plan, this nod to the past can be a stylish and pleasant way to accommodate grooming needs.
Add free-standing cabinets to stow supplies and modern appliances such as hair dryers and electric toothbrushes; hang original art on the walls; place a soft rug on the floor. For the ultimate in pampering luxury, add a bench or a period fainting couch upholstered in water-absorbing terrycloth.
Trendy is Terrific
If you are enamored with space age technology, or imagine the sleek functionality of a bathroom on the Starship Enterprise, then trendy is the look for you.
Numerous designers show toilets that bear little resemblance to their earlier counterparts. They are attractive and sculptural, and would be a suitable addition to a futuristic space.
Likewise, smooth curving lines of solid soaking tubs can make bathing a delight, and sculptural, geometric lines add variety and interest to vessel lavatories, or wall-hung models. Showers can be linear and walled with glass, or curve like nautilus shells with no doors to get in the way. Your choice.
Recommended also: Properties of microcement in bathrooms
Soothing Spas
The functional look of a health spa, with clean-lines and sparkling surfaces highlighted by soft, beachy hues is a popular decor for master bathrooms.
Another option for indulgence is the look of the middle-eastern hamam, with richly hued, tiled surfaces, exotic materials, gleaming metals and additions of spicy scented candles. Even in a luxurious setting, the fresh sparkle of white fixtures is entirely appropriate.
All White or Dramatic Contrast
The lasting appeal of white is amply demonstrated by bathrooms from the 50s done up in pink and black, yellow or turquoise. You know how dated they look! Even the sand-colored and jewel-toned fixtures of a decade ago are unappealing today when stacked up against modern white fixtures.
When planning for your new bathroom, whether it's a paper sketch or an already-begun redo, don't overlook the staying power of sticking with white. Just know that you can add as much personality as you wish in other, more effective ways!