Once again small spaces are protagonists; in this case a mini office presents different ideas to acclimate workspaces within the home, as practical as stylized.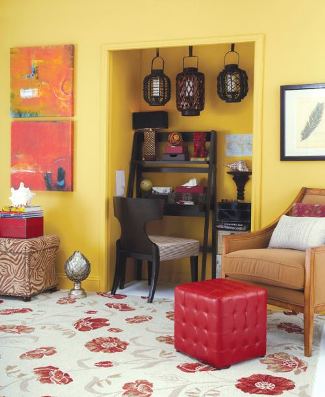 A small office with style at home is the proposal that invites us to create an environment tailored to each home, taking advantage of every inch of a stay, and conditioned to the aesthetics of it.
With decorating ideas you can create a work area or study in a corner of a room, such as a living room or dining room. Also be used as a reading area, or for other activities such as sewing, all at minimum square meters.
Creativity through a corner can combine the right amount of comfort and aesthetic appeal, accompanied with the necessary elements to meet the requirements of a workspace.
The decor provides solutions and answers to suit every home, even for small spaces that become a challenge to merge in achieving harmony and functionality.
Related Topics: Box room home office ideas
A hole in a wall, an irregularity or a setback in a wall can transform into an advantage, and there have a mini office. To the area which occupies a wardrobe that is no longer used, could be exploited to raise this new environment.
So that the different areas within a same interior achieve harmonization, have painted the walls yellow, omitting the small setback.
For furniture, we chose a set of dark wood tones for all parts, this gives uniformity and balance aesthetics. It is also important to choose furniture with little background to fit the space available, and to prevent them from being annoying, impeding circulation in the room.
Another trick to consider the desk or workbench is a model with elevation, which allows you to take full advantage of vertical space in the corner. The decorative touch has been given a number of lanterns hanging from the ceiling, offers a wink oriental style and a personal touch to the atmosphere, which could well be used to illuminate the area or simply for its attractive design.