The bedrooms of children and youth can be the rooms of a house with more colors and can be designed with many practical ideas, so get comfortable and modern settings. When it comes to maximize the space of a room decorating houses have helpful resources.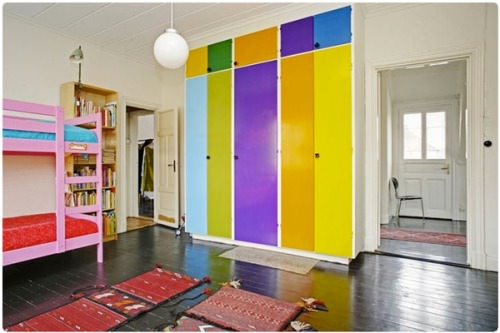 In the children's shared bedroom, it is very important to take that space with good ideas, because the room becomes a common space for two or more children or youth.
One factor to look at the decor of children's shared bedroom, it is the ability to create in the same environment, different areas, even if they have a common use can differentiate themselves.
In children's rooms is desirable to be able to distinguish the rest area, a playground and a study.
In this sense the decoration has very practical tools to achieve it, as for example the color.
Paint the wall where the headboards of the beds of a different color than the wall that houses a working table is a convenient alternative to create distinct areas within the child's bedroom.
The bedroom furniture should also be chosen depending on the characteristics of the space, if it is a small bedroom, bunk is an excellent choice.
Some accessories are also helpful to create a differentiation of areas in the same bedroom. For example, placing a rug with a colorful design in the playground of the room that also serves to add color and joy to the decoration of the interior.
Do not forget to reserve a space for lockers or dressing room area in the children's bedrooms, projecting furniture with enough storage space. A single cabinet of generous dimensions, can be a useful way to optimize space and to get cleaning the visual environment.