Having a small kitchen can be functional, or it can make you feel like you don't have enough space for everything you own. But having a small kitchen doesn't have to be a deterrent or a burden. Instead, you simply just need to know how to design a small kitchen in order to ensure it's functional, stylish, and everything you want it to be. If you find yourself struggling for space, here are seven design tips for a small kitchen you should use today.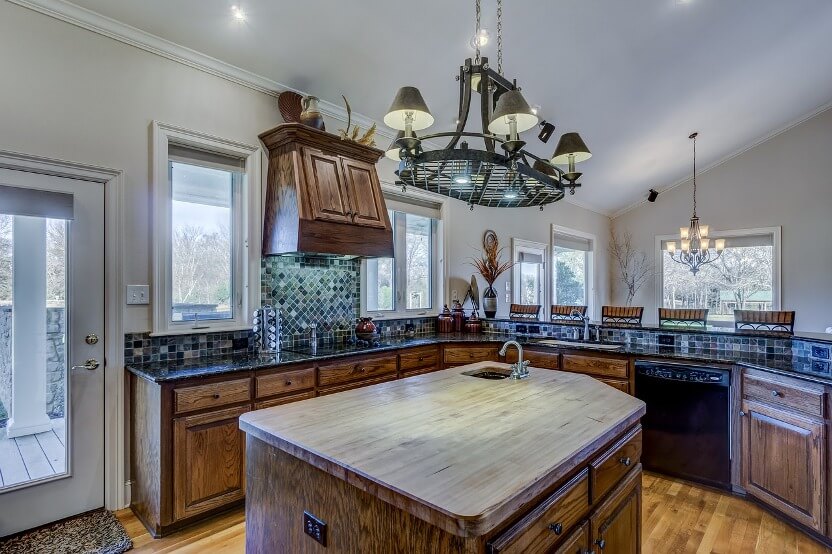 1. Choose the right wall color
When you're working with a small space, you need to choose the right color. Using lighter colors on walls and kitchen cabinets will help you make the room appear bigger in size. Take some samples from your local home improvement store and see which color matches the style of your home and gives the appeal of more space in the kitchen. Then, take the time to paint the walls a lighter color so the room has an airy feel to it.
2. Choose the right cabinets
In addition to the right wall color, you also need to consider the color of your kitchen cabinets. If you have darker cabinets, especially in hotter areas like San Diego, you may want to consider painting these or replacing them with something that's lighter in color. You could also remove some cabinets and instead use open shelving concepts. Open shelving gives the appeal of more space in your kitchen and still provides you with plenty of storage. There are many different types of open shelving concepts and styles you can consider, so find the one that makes sense for you and your space and make it happen.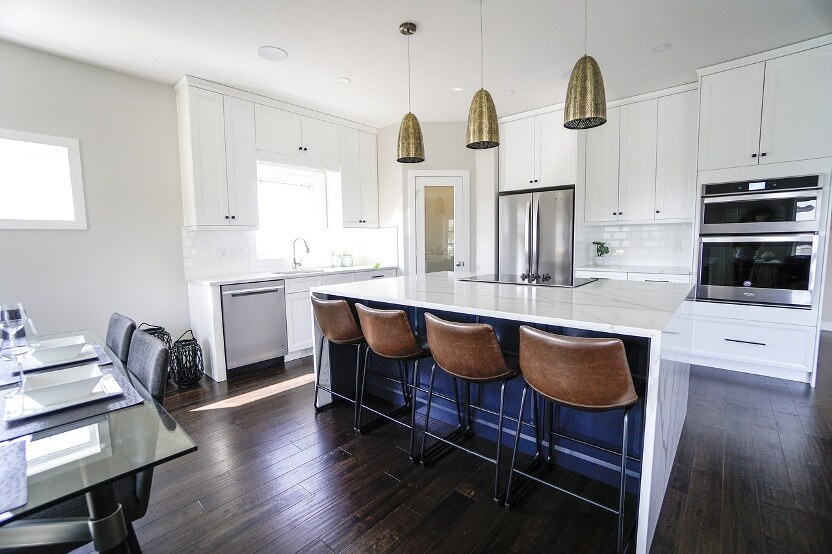 3. Make room for seating
Instead of crowding your kitchen by trying to make a table fit, find alternate ways to provide enough seating in your kitchen. For instance, add seating to oversized counters so you can have enough room for people to eat quick meals or just hang out and enjoy each other's company. Having counter seating allows you to get the best use of your space and lets you keep an open concept by eliminating the need of a real table.
4. Hang your pots and pans
If you have a limited amount of storage, consider hanging things when you can. For instance, hang your pots and pans above your stove or on your walls. This will allow you to keep cabinet space for your other kitchen necessities and create a fun atmosphere for your kitchen. You can find unique ways to hang your pots and pans or you can buy a tool that allows you to do it easily.
5. Bring the eye up
Whenever you have a small space, you should bring the eye up when you can. If you have a window in your kitchen, put the curtains closer to the ceiling. This will make it seem as if your kitchen is bigger than it really is. If you don't have a window, you can still do things to bring the eye up in the kitchen. For instance, put in a nice light fixture that will draw the attention upwards. You can also place a pot holder from the ceiling and hang your pots and pans there, which will also bring the eyes up. Adding shelving up high on the walls can also be a design trick that makes your kitchen feel bigger. Simply find the ways that will draw more attention up.
6. Remove clutter
While it may be hard to do in a small space, removing clutter is a great way to make your small kitchen seem bigger. When your counter tops are cluttered with things, it will only make the kitchen appear smaller. Instead, limit the number of things on your countertops to make your kitchen appear bigger.
7. Add more lighting
If your kitchen is dark, it will only make it appear smaller in size. Instead, add more lighting to your kitchen in order give it a warmer, cozier feeling. This additional light will make your kitchen appear bigger in size, especially if your kitchen cabinets and walls are a light color. You can easily add lighting underneath kitchen cabinets or replace dated light fixtures with recessed lighting. Any of these tips will give your space a warmer feel.
Having a smaller kitchen can be a challenge, but when you use these design tips, you will find that your smaller kitchen can actually feel bigger.