A rustic, modern or perhaps minimalist kitchen in which predominates a monochromatic scheme in decoration style, may be the option we chose to acclimate the space of a house, and if it's time to make a difference in its aesthetics, some quite fast and simple solutions, ideas on how decorating kitchen with color.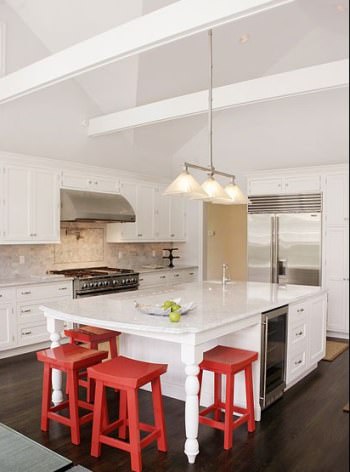 When, for example, white and black is the pair of shades that dresses a kitchen decor, and this aesthetic becomes boring or cold before our eyes in a given time, one of the easiest and most effective alternatives from which we can choose, is to incorporate vivid and bright colors to brighten the decor of the space.
Also, this may occur in any other room in a house, since the fact of adding color to the environments, it is also a good decorative appeal, to change quickly and with minimal effort the appearance of a room, even more if we appeal to introduce color with decorative accessories, such as textiles, also lamp, and furniture.
As shown in the above picture, a kitchen with a predominance of white surfaces that constitute it, but some strokes of other neutral tones, in a serene and discreet atmosphere, and acquires a touch of dynamism with the addition of a group of stools in an intense and vivid red color.
The intensity of the finish of these seats, red color becomes the counterpoint of the predominantly monochromatic decor of this contemporary kitchen.
This is an idea that, as applied in a kitchen, at the same time could move and adapt to all the rooms of a house, on these occasions when we believe that the atmosphere lacks a note of color, and to add fun personality to the environment.
At the same time, we can choose a single color that brings life to a stay, or opt, for various tones, which contrast and harmonize others existing in the space in question.