When it comes to redesigning a room, the first decision is usually to decide the color. Sometimes, this decision may be the most difficult of all, as it is the most important. An effective way and you'll never be disappointed on how to better find the colors for a stay are to focus on a monochrome color palette. It is an easy way to decorate with colors without breaking your head too much.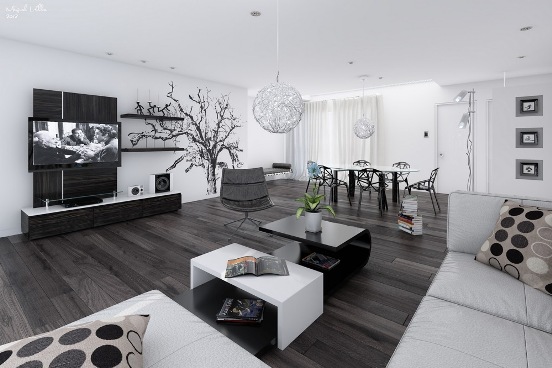 If you are not sure that monochrome is a good choice for you, then do not hesitate to read on why the monochrome color palette can be an excellent choice for any type of decoration. Once you realize this, you will discover the beauty and elegance of the monochrome decoration.
Why say yes to monochrome colors
The monochrome in a room will easily create a great harmony in the place, because it is a good base color. When choosing a monochrome color palette, you will have a great unifying element from the beginning. 'Monochrome' simply means that it is a basic color and you can apply the theory of color to create a range of nuances when playing with the different tones and shades that can be created from the original.
If you are starting to experiment with interior design, the possibility of decorating an entire room can be daunting. After all, there are so many different components to consider: furniture, floor coverings, accessories, colors… Going to the monochrome can give you features that these colors will guide your decisions and in addition, you will always be in the right direction.
You will feel much more relaxed
Yes and no. You may be familiar with the colors you use to fill your spaces and have forgotten that it can impact you psychologically. While bright colors such as orange can provide a much-needed burst of energy, earth tones can make you feel calmer because you have created a more relaxing and refreshing environment.
An investigation conducted by the University of Texas found that websites with a monochrome background palette became a simpler place for readers and they liked more. Attribute these results to the fact that the brain has less to process and therefore it is able to better concentrate on the content of the web page. You can take this same principle and use a single color palette to show the best features of your space within the home.
Because monochromatic designs have a relaxing effect, these are often used in spaces that need soothing additional impetus. The rooms are, of course, an excellent choice for improving night rest, but home offices are also a good option. Do not be afraid of walking away a little experiment the monochrome in other areas such as in your bathroom to feel that you are in a spa or use it in the game room for children to calm all their energy at the end of the games.
As you see, following a decoration with monochromatic colors of your home can be a great idea to improve not only the decoration of the room, but also to improve your relaxing sensations. And yes, of course you can add accessories with bright colors to create great contrasts. Once you decide for these types of colors in the decoration you will not understand how you have been so long without being able to enjoy the monochromatic decoration. You'll love the psychological effect that will have on you and your loved ones!