The vintage style proposes an alternative to renew the decoration of our homes as well as other areas. By choice or exploit opportunities offered certain parts, such as inherited, and sometimes by chance may incorporate it into our homes, and get transform a room or create unique spots.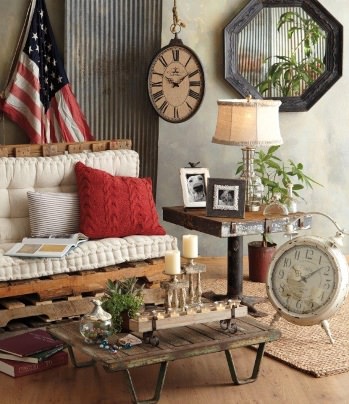 This style which for some time has come to settle in the orbit of decoration, offers endless options to equip a house with charm.
Rescued several interesting aspects of decorating with vintage pieces. On the one hand that this style allows you to "rescue" and maintain existing objects or furniture that have remained after several generations in the family, which we have inherited from friends and in this transmission is that lies the soul or emotional value that invested in it.
The other item to note is the possibility of saving that occurs many times. Since we are using objects that are obsolete or by the passage of time and use are damaged, but with some work, like sanding wood, paint it again, change a few knobs and hinges, will be again resulting functional.
It should be noted at the same time, many parts of yesteryear presents the possibility to print a single label. We refer to time intervene them, as can be to change the upholstery of a chair or sofa, or paint a brass lamp.
Trays and earthenware of our grandmothers, hand crochet blanket, paintings and furniture with stripped paintings and carpentry demolition, many different opportunities arise to create original environments of the hand of the vintage.
Pieces can be inherited, gifts or can find these "old" treasures on traces, flea markets, fairs and antique shops too.
Also take into account two tricks for decorating with Vintage stamp, without turning the stays into an inn or a hodgepodge:
First, decorate with vintage style elements in perspective, grouping pieces but without falling into saturation.
Then it is important to take care of the canvas on which you are distributing these parts. Choosing flat background colors and composition, allowing them to stand out and illuminating them.
In vintage you can bet even eclecticism, mixing modern pieces with other recovered and past. This mix may arise attractive environments where the wink of other decades elements provide visual interest to the decor.