The work table, desk or office are spaces where you spend many hours of your life, therefore, it is important that it is a perfectly conditioned place to make you feel comfortable. The minimal style and Nordic style are some of the great trends in decoration that, moreover, are the most appropriate when decorating a workspace. These are styles that bring calm, tranquility and good vibes. It will help you relax and feel at ease with what you do. If you follow our advice you will create a comfortable work space where spending the hours is not going to be so hard.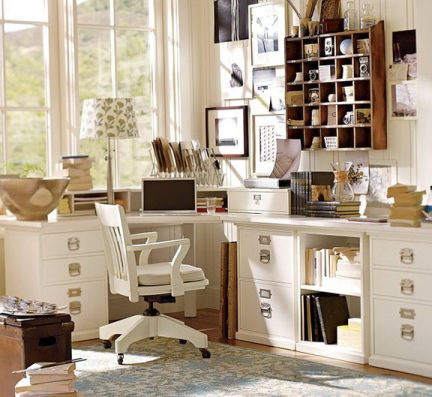 Colors
To choose well the colors that you will use. We all know that a good combination of colors positively affects our mind and our mood, so do not forget to create a harmonious space. The light colors, pastel tones and especially white and beige tones are the must have on your work desk.
Shelves
The organization is a fundamental part of the workspace. Having the table organized from day to day will give you peace and well-being. Including shelves will allow you to have everything separated, tidy and very handy.
Just what you need
Avoid having the work table constantly with objects and papers. Get rid of everything you do not use and do not need. It is important to have your space as free as possible to work well.
Lighting
Lighting is one of the most important parts of your workspace. You should choose the lamps and bulbs very carefully so that are the right ones. Good lighting will give light and life to your table.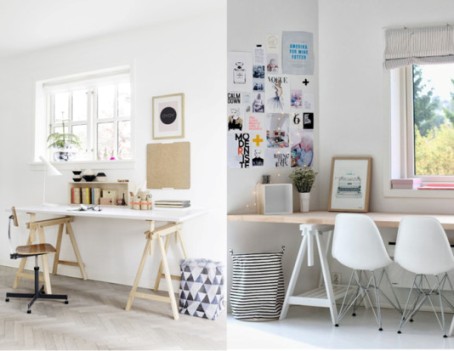 Furniture
Less is more, we recommend that you do not work in an overloaded space. A simple desk or table and a comfortable chair are more than enough, the important thing is the details and accessories that go with.
Plants and flowers
Plants and flowers are something we need by nature because they simply give us life. The color of the flowers will bring a touch of joy to our office desk and are something that can not be missing when decorating.
Accessories
For the decoration the accessories are the icing on the cake, they will add your personal touch and they can shape your taste. Once the colors are chosen, it is time to unleash the imagination. Crowns of flowers, boxes, cans, scented candles, stationery, vintage boxes style… etc. It's time to enjoy your work table!