Both businesses and residences sometimes need to hire professional window cleaners. Regular glass cleaning is not always sufficient for certain properties. If the property has multiple stories, or if the windows are situated up high, then professional window cleaners are absolutely necessary. While there are plenty of services available, it's hard to decide which type of cleaning service is best suited for the needs of the client. If you are currently on the hunt for professional window cleaners, here are several tips: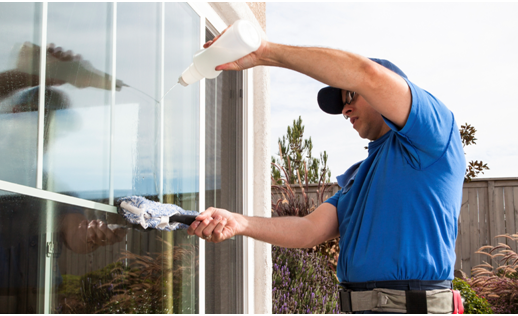 Insurance is a Must
It's absolutely necessary that the window cleaning company you decide to choose be insured. Don't just ask; request a document of proof of insurance. When you have this copy, check the dates of the policy. If possible, check the conditions as well. It's recommended that the policy covers at least $1,000,000 in damage. This is a must if you expect the company's workers to ascend or descend to clean windows situated up high. Just in case there is an accident, you don't want to be the one liable. Therefore, insurance is a must.
Learn about Safety and Technology
Window cleaning can actually be a hazardous occupation. Therefore, the workers of the company you hire must follow adequate safety protocols. Better yet, they should have the tech to get the job done safely. For example, traditionally window cleaners had to strap on harnesses and descend to clean windows of tall buildings. But now there's new technology like ionic systems telescopic water fed poles that allows workers to clean windows safely from the ground. Hire a company that utilizes such safety methods to reduce the risk of accident or property damage.
Get a Price Quote Early
Don't hire the window cleaning company without getting a price estimate first. Also, you must ask the company to declare any additional fees or service charges that may apply. Sometimes it can be difficult to set a price for a job like window cleaning. Therefore, it's best to get a price range with a minimum the cleaning company expects, and a maximum that you are willing to pay up to. Allowing some flexibility in pricing also discourages certain contractors from cutting corners and adding extra charges at the end. No one wants to get into a pricing dispute after the fact. Therefore, make sure both parties have set limits on the price.
Seek Guarantees
If a window-cleaning contractor offers a guarantee, which means the provider is confident in the quality of the work they provide. A guarantee indicates that the company you are about to hire is professional and serious. If a guarantee is not provided, check customer testimonials. You may be able to request a guarantee directly. Go to the potential contractor's website where you will be able to find information on quality assurance and related issues.
For Homes, Hire a Specialist
If you are looking a window cleaner for home, hire workers who specialise in residential cleaning. The problem with commercial companies is they largely hire temporary workers who don't really know the window cleaning profession. Contractors who are exclusively for residential cleaning know how to get the job done properly without damaging home furnishings. Also, these workers know how to reach windows of a house safely.
If you follow the above tips, you will be able to find the best window cleaner for your job.