Similarly we care about dressing up as the season changes and really dominant in clothing stores be trendy, we must also bear in mind that there are trends that we can continue to make our perfect home decor. The textiles are very important in decorating a house, may even serve to renovate the home, giving a total twist to the style and spending little money.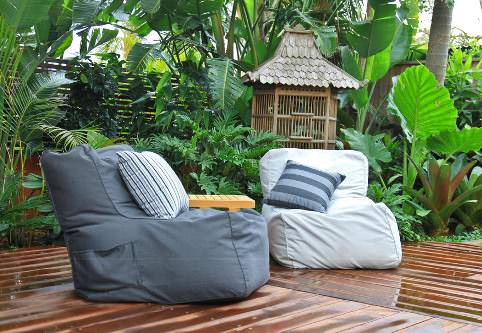 The prints are here to stay
This also happens in the garden: hammocks, loungers, chairs and ottomans that we place in the garden for sunbathing are upholstered, but, as a rule, are usually smooth tones without any grace.
The latest trend in decorating this year are the prints, both indoors and outdoors.
If we are lucky that our house is close to the beach, we can place the fabric of the striped sailor style furniture to give that touch of sea and holidays that we like.
This style is perfect when combined with white chairs, even can choose stripes that are not straight but are more original to give a more modern look to a decoration that although cool, is something more classic.
Combine upholstered with tablecloths
It is important that the tablecloths of table for a meal in the garden have the same exact pattern. We can even choose the same fabric scraps in any store and create our tablecloth and upholstery covers for chairs or hammocks, in case we do not want to invest too much money in the upholstery. Thus, next summer will be able to change back to textiles if we want.
On the other hand, if we are more risky, the bright colors like fuchsia, orange or yellow will be perfect to combine them into prints and give a fun touch to our garden.