A washing machine can take a more or less considerable space in various rooms of a house, sometimes this device is placed in a laundry room, a room intended exclusively for the tasks related to cleaning the clothes of the members of each home, but in other cases, the machine must be located in rooms like the kitchen, bathroom or toilet.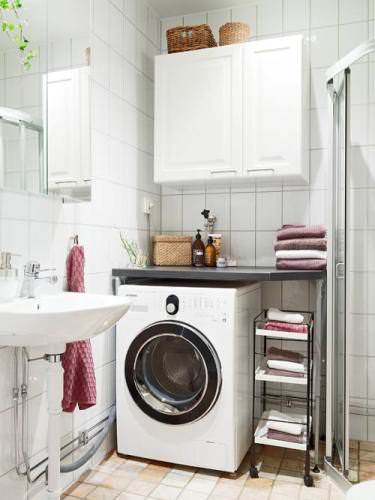 For various reasons may the washing machine incorporated into the decor of the bathroom, in this case, and when it comes to small spaces, must be given free rein to the imagination, to arrange the furniture, furnishings and appliances in such a way, that the bathroom is a harmonious space, and of course, comfortable.
When we have a small bathroom with integrated washing machine, we may notice that there are spaces or corners, around the washer, which are free, and wasted.
Thus, for example, in the case of a front-loading washing machine, the part that would be free is the upper wall area, while installing a top loading washing machine, always leave free space in height, to be possible to open the door.
Provided these distances, consider the alternative of placing the bathroom a shelf, a cupboard, shelves or racks, so in this way we can take advantage of the space that is distributed over the washing machine and into a wall.
On these shelves, we can store cleaning products, soap, perfumes, in short, all kinds of accessories useful to keep in the room bathroom, even towels.
While in space that is generated at the sides of the machine also can take advantage of using side tables or carts, as shown in the photo above, which has wheels, so surely will be very practical in the bath.
If you choose the shelves, remember to keep the area tidy, since all that is available on the shelves will be visible. A decorative and practical alternative is to use fibers plant, natural or painted, or colors boxes, baskets.