When decorating and changing the style of a room the curtain rod should never be an afterthought. It's not just there to hold up the curtains or drapes, it can add an important complimentary touch to the overall vibe.
Curtain rods come in many different styles. First off lets look at some of the basic types of rod and how they function.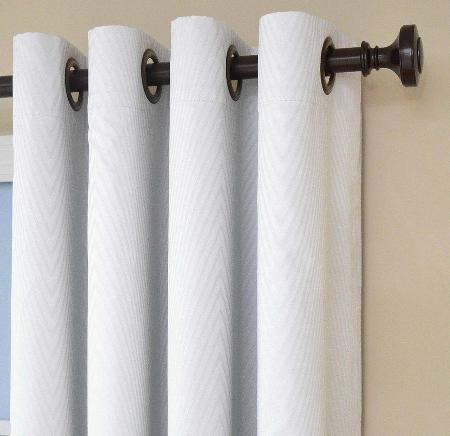 The Classic Rod
The classic rod is a simple straight rail that is affixed on brackets a few inches above your regular window. This may be adjustable or a fixed length, and for added style you can include finials, which are decorative end caps on either side.
They can be made of metal or other materials, and have different types of finish to the material. You may opt for a dual-rod, which allows you to layer with sheered curtains.
Return Rod
A return rod is still used for regular windows but protrudes slightly due to curved U shapes at either end. This is a bit like a large handle or grab rail.
It's main function is to allow curtains to wrap around the very ends to block sunlight from getting through the gaps.
Track Rod
A track rod is an aesthetic choice that removes the need for rings and other visible fixings to hold the curtains in place. Instead small hooks are hidden within the track rod allowing the curtain to glide easily. These come in multiple styles, some rectangle and others circular, and some with finials.
See: Different touch to your living room with double curtains
Tension Rod
The most basic form of curtain rod is a pressure or tension rod, which is designed to slot within the window frame and hold basic lightweight curtains.
These may have holes for the rod to slide through, or you may attach the curtains with rings. You will buy one that is the basic size of your window frame and then a twisting mechanism will extend it until it fits in to place.
Sash Rod
An even simpler rod is the sash rod. Used mainly for doors and small windows, this thin rod is fastened only on the ends and is used to hold small nets. They will usually have a swivel on one end so you can easily access the window to open or clean it.
Bay Window Rod
Rods for bay windows are designed to fit the shape of the entire window frame, these will be fastened together with adjustable elbows, which can be manipulated to the angle of your window bay. A similar solution is used for steeper angled corner windows.
Many different types of curtain rods are available depending on your requirements. Some can be affixed to the ceiling, some offer several kinds of adjustments, others even work with magnets to hold and draw the curtains.