It's that time of year again when the sun starts to come out and everyone gets excited for summer. After winter, kitchens can feel like they need refreshing ready for the warmer weather. The look and feel of your kitchen can be completely transformed with a few small changes and adjustments. Here are 13 summer touches that will help brighten your kitchen in time for the summer.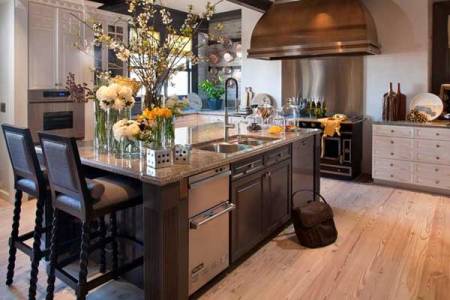 Fresh flowers
According to an article by The Kitchn buying some bright and colourful fresh flowers for your kitchen will make it feel instantly more like summer. Fresh flowers can have a big impact on how a room feels, and they will smell gorgeous too. Head down to your local flower shop and pick out your favorites.
Green plants
Add a green plant or two to your kitchen, this will help give it more life. Green plants can help to make your kitchen seem fresher.
Upgrade old units
If some of your kitchen units are looking a bit worse for wear why not replace them before summer arrives. Old kitchen units that are falling apart can make a kitchen seem dull and outdated. Treat yourself by getting some new kitchen units and cabinets and your kitchen will feel brand new in no time.
A new coat of paint
A new coat of paint can do wonders for any room in your house. You could opt for a bright summer colour or simply apply a new coat of paint of the colour you already have. Either way, it will help to enhance your kitchen a little in time for summer.
Summer accessories
Swap cosy winter accessories for nautical and nature inspired summer accessories. Refreshing your accessories is easy to do and it can really make a difference to how your kitchen looks.
A spring clean
A spring clean can go a long way to making sure your kitchen is ready for the summer. Give your kitchen a proper deep clean and you will see a huge difference.
Replace old light bulbs
Daniel at Kitchenwarehouse Ltd said "Have some of the lights gone out in your kitchen? Just having one light not working can really make your kitchen feel dark and uninspiring. Change all your lights in time for summer".
Stock up your fridge with summer foods
Clean out your fridge and fill it up with some fresh summer foods such as salads, fruit and seasonal vegetables.
Summer artwork
Consider purchasing some summer themed artwork to add a little something special to your kitchen for the summer.
Open the windows
After a long, cold winter it's time to air out your kitchen. Keep the windows open on warmer days so that you can benefit from the fresh air.
Buy some bright kitchen utensils
Head to your local homeware shop and buy some bright kitchen utensils and pots and pans. Changing to a summer colour scheme can instantly transform your kitchen and get you in the mood for summer.
Grow some fresh herbs
Buy some fresh herbs that you can grow in your kitchen throughout the summer. Having access to fresh herbs and plants such as thyme, rosemary, coriander and mint for the summer months is a luxury.
Display summer cookbooks
Dig out your summer cookbooks that are in storage and display them proudly on your kitchen shelf. Cooking some summer dishes will make you feel as if summer has arrived in your kitchen.