A person's house should be one of their favorite spots to relax. While getting a flat-screen television is a start, there are literally hundreds of other exciting ways to elevate a home's appeal. Here are five intriguing home improvement ideas.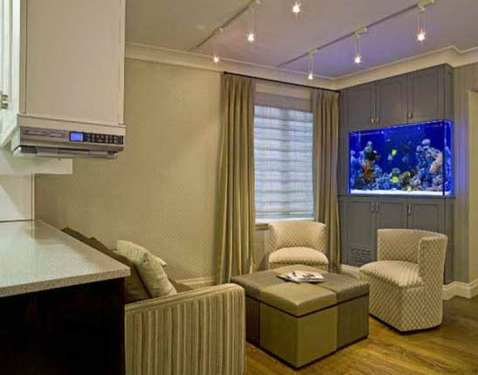 Exotic Fish Tank
Although aquariums have been around for quite some time, they are still extremely popular. Unlike some of the other home upgrades, a fish tank is something that the entire family can enjoy. Not only will a beautiful aquarium enhance the home's mood, but it also has the ability to reduce stress. While an entry-level fish tank can be purchased for less than $100, the cost of an exotic aquarium can exceed $10,000.
Hardwood Floor
Many residents love the soft feeling of carpet beneath their feet. Unfortunately, carpet can be a nightmare to keep clean. A hardwood floor may prove to best option. Homeowners will surely love that fact that a hardwood floor does not accumulate a lot of dust and debris. Perhaps the best benefit of a hardwood floor is its durability. When properly maintained, a hardwood floor can last for decades.
Swim Spa
A swim spa is an excellent choice for active families. These unique spas can improve a person's fitness without over-stressing their body. Unlike a large swimming pool, swim spas do not consume an incredible amount of water. Some of the units are even available with a self-cleaning system.
Exercise Room
Not everyone likes to exercise in a crowded gym. Instead of paying monthly dues for a gym membership, homeowners can transform an unused room into an exercise room. Contrary to popular belief, the exercise equipment does not have to be sophisticated. Some of the essentials include a weight bench, a workout mat, and a treadmill. A nice stereo system will also help to keep the atmosphere exciting.
Outer Space Room
Many people love to gaze up at the stars. A space-themed bedroom will be especially exciting for young children. A built-in skylight will allow the youngsters to watch over the galaxy at night. With the use of a powerful telescope, they can have the ultimate outer space experience.
These five improvements will definitely encourage residents to spend more quality time at home. Everyone should be able to enjoy their home life.