Even if you love cooking, being in the kitchen can sometimes be a bit boring. We don't always decorate our kitchens with fun in mind. Mostly, we want them to be functional and practical, so we can forget about color and texture. If you want to make your kitchen more enjoyable to look at and spend time in, there are lots of things that you can do. You don't have to completely renovate your kitchen, either. Just a few small touches can improve it and make it a better place to cook, eat and chat. Have a look at some of the techniques below to see if they will work for you.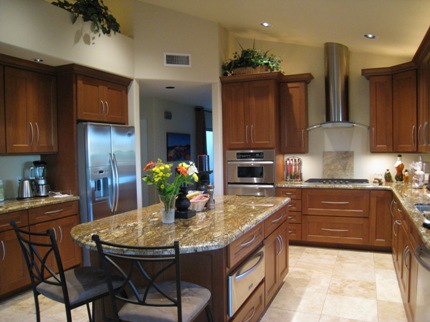 Get More Colorful
We often tend to keep our kitchens in neutral colors. Perhaps part of the reason for this is that we want them to look clean. However, they can look neat and tidy and have some color injected into them too. If you wish to add some color, there are a few things you can do. Firstly, you could paint the cabinet doors or replace them with a different color. If you don't want to go that far, just switch out the door knobs for something for colorful or glitzy. When it's time to replace your appliances, get some in bright shades, whether it's your toaster, kettle or coffee machine.
Add Some Quirky Accessories
A lot of people try to keep their kitchen surfaces tidy. But just because you don't want a lot of clutter, it doesn't mean you can't have some kitchen accessories. Lots of your essential kitchen items can double up as things that you can put on display. For example, if you buy a rack for your coffee machine capsules, it can look like a quirky piece of art. Click on this link for more info on what you could use to brighten up your kitchen. It could be a fun mug, some mason jar glasses or an egg run.
Play with Gadgets
There are gadgets for every room of the house now, including the kitchen. To make not just the kitchen but cooking more fun, take advantage of some of the ones available. For example, you could buy a low-fat fryer, an ice-cream machine or a multifunctional mixer. Lots of kitchen gadgets will make cooking and baking easier, making them more pleasurable experiences. Even something as simple as a pineapple corer and slicer can make food more fun.
Install Music or TV
If you spend a long time in the kitchen cooking or cleaning, you can get bored. Even if you love cooking, there can sometimes be long waits. Putting in a TV or a sound system gives you something else to do while you're busy. You can listen to music or watch television so that you can get the job done and be entertained at the same time. Make sure you put them somewhere practical, where they won't be affected by heat or steam.
It won't take much time or effort to make your kitchen more fun. Just adding a bit of color and some new gadgets could transform it.