Some people who work at home need to design their workspace carefully, but sometimes a study corner can be used only sporadically, and these cases are simple tricks to decorate in a few steps these areas of the house.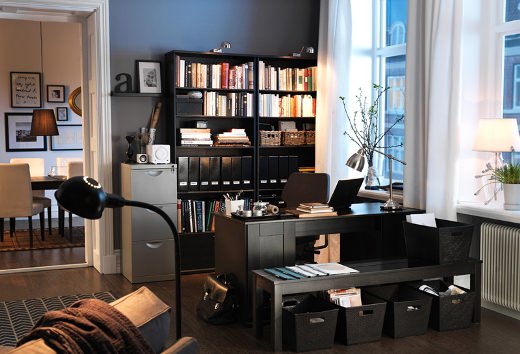 A work surface is one of the fundamental elements to create an office, corner of sewing or other environments to develop a manual or labor activity.
In small spaces, a practical concept that allows us to save space is to incorporate a series of shelves or racks, the highest can serve as storage space, while the lower shelf is used as a workbench. It is necessary that the latter shelf is deep enough to make it comfortable to work.
As for the seat, it is desirable to integrate this workspace, a folding chair, so we can hide or store it when not needed. Especially if it is to create a small environment, these kinds of versatile furniture are recommended.
It's a good idea to add a detail that brings life and color to the decor of this work environment, one option is to place a piece of wallpaper. On one of the walls of this interior design placed a wallpaper with a pattern of stripes, this and other reasons can be incorporated into a corner of sewing rooms, offices.
It is ideal for adding dynamism to the alternative decoration, and as the variety of existing models in the current market is so wide, expands the possibilities for selecting the most we like and fits to the aesthetics of a room.
Provide with a contrasting color or finish the walls where we will locate workspace, it is a useful to emphasize this new environment that can be thought decorates in a few steps.
Shelves or shelves, chair, accessories and elements that are necessary to work, adequate lighting, and some decorative detail, is all that is required to decorate a workspace at home.