In the houses and current apartments always needed a little more storage space, and furniture that offer the possibility to organize environments. This occurs especially in kitchens and dining room, so we are going to discuss about a practical solution for solving these everyday needs that make functionality and comfort in these rooms.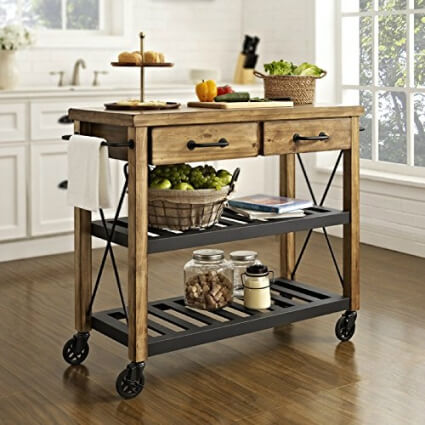 A side table is the idea that we propose to implement to increase the storage space, to have items of daily use to the fingertips both in kitchens and dining rooms. If you need more space in your kitchen, cart table can offer an extra surface, it becomes a handy accessory that thanks to having wheels can be moved to any room as needed for use in the kitchen, and if you want you can move it easily to the dining room.
The table with wheels, with a surface of superior support and one or two shelves or baskets will increase the storage space for kitchen accessories, including kitchenware and tableware that you use every day. You can put in it cups, plates, cutlery, bowls, trays and all those elements that you use in your meals, and thus move from one place to another. This may be an even more interesting idea in families with many members and to avoid multiple transfers between the kitchen and dining room.
Also if you plan to make a meal, a meeting, breakfast or snack outdoors by the poolside, on the patio or terrace, this side table with wheels can be of great help, to move everything you need quick and easy.
If you want you can place it in a corner of a room, as if it were cupboard furniture, this table can be as useful as add interest to the decor. Since elements remain in sight, if you intend to give this piece with decorative character, choose items that bring color, texture, and attractive shapes, creates a composition to your measurement.