Having a terrace, a balcony or patio at home gives the opportunity to enjoy fresh air, as well as enjoying leisure time, and to make the most of these portions of outdoors and nature is that we share ideas for decorating these spaces.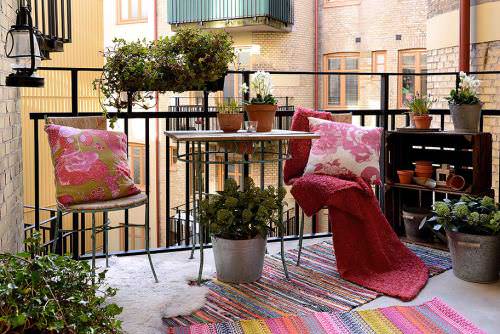 If you wonder how to decorate a small terrace today we tell you some tricks to get it, adapting the environment to use that you give and take advantage of every inch.
Especially in homes with few square meters that are so prevalent these days, a terrace is a relief to shortage of indoor space. It is presented as an extension of the house to breathe a regenerative air.
An urban terrace could have a small proportion, like the rest of the house, so it will be crucial to plan for the use and distribution of its surface. From this, it will be easier to create a welcoming atmosphere, reflecting the lifestyle of each dwelling.
Once we note the square footage of our deck, we can determine what type of furniture includes. With good ideas, we can give life to an exterior that merges the style that we like, with the comfort we look into the available space.
We will have to define the use of the terrace, if we are to use it as a mere storage space to keep plants or even a mini garden, or spend leisure time there.
As for the furniture to include, as we said it depend on the use, there is a wide range of designs and sizes. If square meters are bounded, and want to create a seating area, an idea are the versatile furniture like chairs and folding tables, which can be saved and integrate the space to the needs of each moment.
The location of the furniture is equally important, as far as possible we will have to avoid blocking steps, and place a table or chairs in corners or supported in walls or railings, for example.
To complete the atmosphere plants are a good choice. Choose them according to the care that we are willing to give them and according to the dimensions thereof. We can choose from a small pot to put on a table or shelf, or take advantage of the vertical surface of the terrace wall with planters or hanging pots.
In addition to the functionality that we get on the terrace, we can print a more charming and personal touch with elements that are easily integrated. A small rug, colorful cushions on the chairs, baskets containing pots, lanterns and candles are decorative details that serve to settle these outdoors and make them look more welcoming.