Create a new space at home to perform a working activity can be a task that inundate us with doubts about the furniture that include distribution, accessories and style that will have this space, among others. So we met some inspiring ideas to begin to shape a practical work space that suits our style and different needs.
When it comes to work at home, thousands of alternatives are presented, as we can allocate from a corner in the room to devote to our office, or even define a room in the house that will function as such. In any case, it is important to gather in this area everything needed to perform tasks, including furniture and accessories that create a functional environment, at the same time comfortable and enjoyable.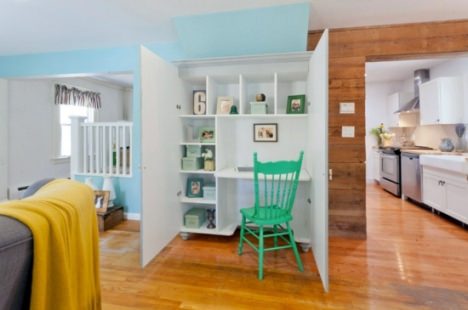 We should not only address the functionality of an office, it is also interesting to give life to an atmosphere in which to work relaxed, so take care of the aesthetics and decorate the room to our liking, translates into a cozy atmosphere.
The ideal place to work indoors should not necessarily be shaped by design furniture, luxury items or even many objects. You can create a perfect space from a desk with character, which stands out from the conventional, such as a vintage piece of furniture, or an inherited object.
Imagine an old table converted into a desktop, this can be the element that provides absolute personality to an office, and when combined with contemporary design chairs, including wheels for added convenience and versatility in the room, gain an interesting counterpoint.
Another aspect to consider is to not neglect the brightness of the office, so best if we can choose to have our corner of working next to a window or other light source, so during daylight hours we can work with the warmth of natural light. For point lights in the work area, we can opt for table lamps, hanging or standing, among a wide range of models.
For some activities, the amount of work material involves incorporate storage space, for which we will then choose furniture to suit to this requirement. The desks with drawers, bookcase or rack that leverage the vertical space of the room, or even simple shelves to suit any free corner on the walls, can become practical solutions for an office.
To store small objects, books, fabrics, or other work materials, boxes, baskets are a useful alternative that also adds aesthetic funny nods to an environment. These accessories allow us to maintain a well organized work space and visually clean, and presented in multiple formats, designs, and materials, proposals that will allow us to add style, colorful and dynamic decoration.
The color can be a key resource to add style and personality to a workspace, to break the formality of a traditional office. The possibilities for incorporation are many, from an old chair painted in a bright pink gum, a furious red lacquered desktop, a box that brings art to the walls, or a wall painted in lively tone. Also decorative accessories like lamps and rugs can provide design and beauty to a current office at home.