If you're lucky enough to have a home with a backyard space, your options for outdoor entertaining are really quite endless. With that said, coming up with a plan that makes the best use of the space, provides you with functionality, and of course works with your budget, is a whole other beast. The good news is that even the smallest tweaks and changes can make a huge impact on the outdoor area and make it more conducive to outdoor entertaining.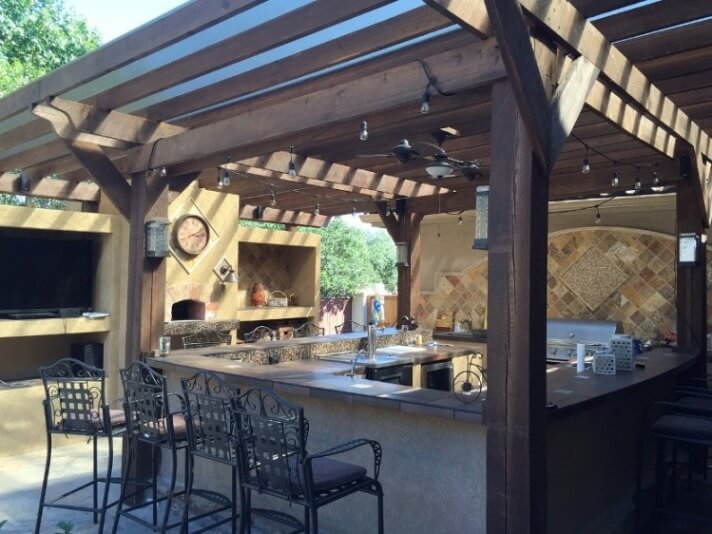 Here's a look at some of the ways you can create the ultimate backyard space, allowing you to pick and choose what works best for you.
Build an Outdoor Bar
When you think of the perfect place to hang out with friends to relax, chat, and just have a great time, the bar might be the favorite spot by all. So, why not replicate the feel by creating your own outdoor bar?
There are all kinds of tips for those looking at outdoor bar design and considering this addition to their outdoor space, such as durable construction, a focus on functionality, storage, ample seating, sound and lighting to create the mood, and even thinking of cooling and heating in order to extend the use of the space.
Build an Outdoor Kitchen
Another fabulous addition to your backyard is a fully-functional outdoor kitchen. This truly allows you to enjoy outdoor living at its finest. There's no need to be going in and out of the house while cooking a meal, and essentially stepping away from your guests each time. Instead, everything can be done outdoors from the preparing, to cooking, to eating of the meal, allowing you to socialize and be part of the action the entire time.
A few features to include in an outdoor kitchen include a comfortable table and chairs, a grill/BBQ, an outdoor fridge, counter or food preparation space, and an outdoor sink.
Create a Sense of Privacy
It's also nice to know that when you're outside entertaining with friends and family, you do have a sense of privacy from the neighbors. This can be done with traditional privacy style fencing, or even with large bushes and hedges, privacy screens, a gazebo, lattice, or any other creative option.
How About a Little Water?
If you want to truly create that party atmosphere in your backyard, nothing beats a pool that everyone can splash around in and have fun. Of course, a pool may not be in the budget, especially if you had your eyes on an in-ground pool. If that's the case, you can opt for a much more cost-effective hot tub, which can actually be used year round. You can get them in a variety of sizes, and many come with cool features like built in speakers so you can stream your music, a pop up TV, LED lighting, and more.
Create the House Everyone Wants to Hang Out At
By putting a little thought and effort into your backyard space, yours will quickly become the house that everyone wants to come hang out at.