Having a swimming area in the backyard is a big deal, especially if you know that summers are getting warmer. A private pool is no longer a luxury, considering that construction and installation have become quite affordable.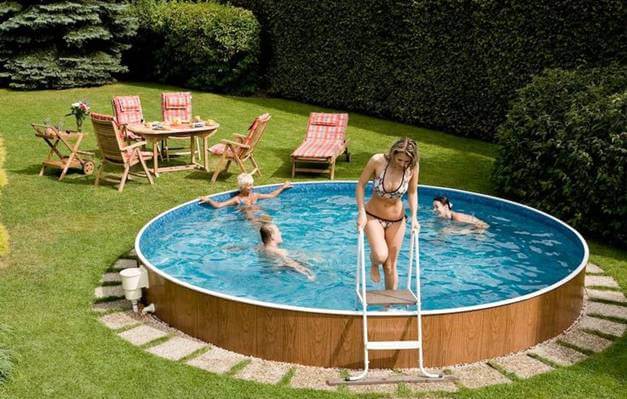 There are numerous models of best above ground swimming pools on the market, mostly standardized dimensions and shapes. Some manufacturers offer the option of building a customized model, but it will cost you extra. You don't have to waste money since everyone can find something for their yards among the existing models.
Know the Dimensions
The first step is to check the dimensions of the space in which you plan to place the pool. Homeowners with spacious backyards have many options, while those who live in narrow, city yards don't have much choice. Fortunately, the manufacturers came up with models that are adapted to even relatively small spaces.
Try to find the leveled yard corner to place a pool there. Or it should be easy to level. If the ground is hard and rocky, that can significantly increase the cost of installation. It will take more time and energy to prepare the ground.
The surface should be large enough to accommodate the construction (and all accompanying elements) and all equipment (pump, filter, hoses). Next, you need to know where you'll place the ladders and the deck (if you plan to build it). The swimming area should be sunny to make your stay in the water as pleasant as possible.
This place should be easily accessible because of installation, eventual disassembly, and regular maintenance. Whether you plan to clean the construction on your own or hire cleaners with professional equipment, you should leave enough space for this job to be done quickly and efficiently.
Related: How to Create the Ultimate Backyard Space for Entertaining
Think of Shape
The size of the available space will largely determine the shape of the swimming area. You must know that some oval and round models require additional construction support. It means that you'll need extra space for their installation. If you lack it, opt for classic square pools.
Adapt Depth to Your Needs
The height of the wall is also a necessary measure. You will determine it based on who will use the swimming area and whether you plan to place a deck and fence around it. Remember not to fill the pool to the top. If you have kids, the height of the walls should be safe for them. On the other hand, if only adults will be in the swimming area, the depth must be comfortable for them.
Below, see tips on how to keep your swimming area safe:
https://www.washingtonpost.com/lifestyle/home/10-tips-to-keep-your-swimming-pool-safe-this-summer/2018/07/09/f15c485c-7f03-11e8-b660-4d0f9f0351f1_story.html
Check the Construction Type
Most buyers think of the above-ground constructions as temporary. But these are often made of materials that can last for many years, such as steel, aluminum, or resin. There are even hybrid models, which combine the best of all materials. They are quite durable and give you the best value for money.
For steel models, which are the best-selling and longest on the market, it is essential to find models with multiple anti-corrosion coatings. Galvanized steel, heavy-coated zinc metal, and aluminum are the most commonly used because they have proven to be very durable.
Although a steel pool is marked as rust-resistant, rust stains can often be seen on metal after a few years. Install this construction in a sunny place so that the heat reduces the possibility of damage from excess moisture.
Resin is a material used for pools and many other things. Unlike steel and aluminum, it's entirely resistant to rust (since its basis is plastic) and damage from moisture and sunlight. It will cost you more than metal construction. Still, the manufacturers guarantee the possibility of using these swimming areas for up to 30 years.
Semi In-Ground Pools
If there are many bumps and slopes in your yard, that doesn't mean you can't install a swimming pool and enjoy cooling off in the privacy of your property. In that case, you should consider radiant pools, models that are partially installed in the ground, and partially above it.
The great advantage of these constructions is an easy installation, which you can do yourself. Manufacturers usually give detailed instructions on the proper DIY setup of these kits so that you can save up to a few thousand dollars.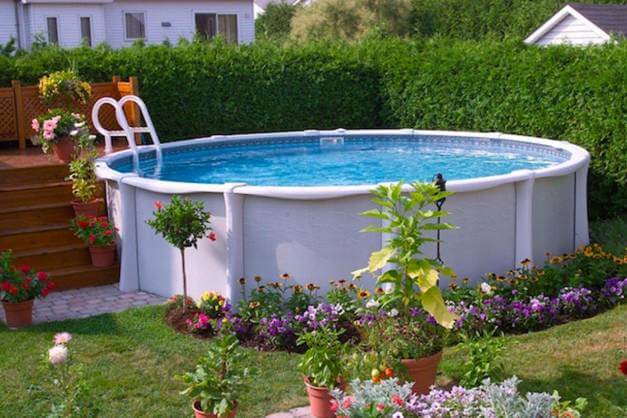 Think of Pool Features
You can build a patio around most in-ground pools so that you can enjoy both in and by the water. But keep in mind that the deck shouldn't rely on the pool's construction, but these should be two independent units. Patios are most often made as terraces or platforms. See this page for ideas on pool deck designs.
Depending on your budget, consider accessories that will complete your swimming area's look. For a romantic atmosphere, you can place LEDs and fountains in the pool. If you want to turn your swimming area into a fun corner, opt for water jets, slides that come down from the deck, floating fountains, etc.
People who have in smaller backyards or live in rented houses opt for above ground pools. Also, those who want to build an in-ground pool, but are not sure what it will look like, can do a 'test' with an above-ground construction. Although these models are much more affordable and easier to install than in-ground swimming areas, they can also last for decades.