An accent wall is one that we want to treat differently by highlighting it from the rest, creating a visual impact. The important thing is that you answer a why and not do it haphazardly. This accent wall can be achieved by painting it in a different color from the rest of the walls – it is usually of a higher intensity – or by using patterned or textured wallpapers.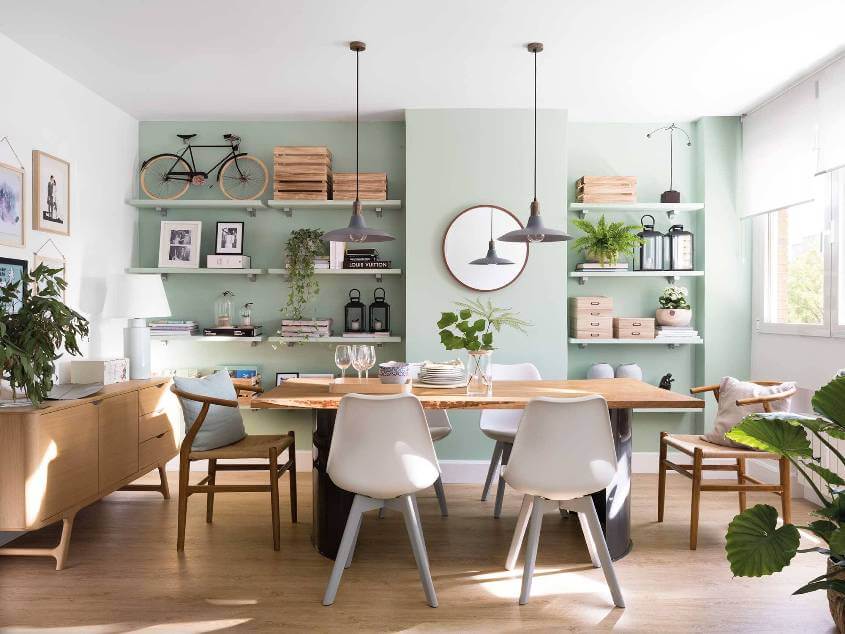 1. A more spacious and fresh dining room with an accent wall
This is the living room that was given a radical change just by painting a wall with this aged green. By painting the wall in this tone, the living room gains a feeling of depth and a fresher and more modern air.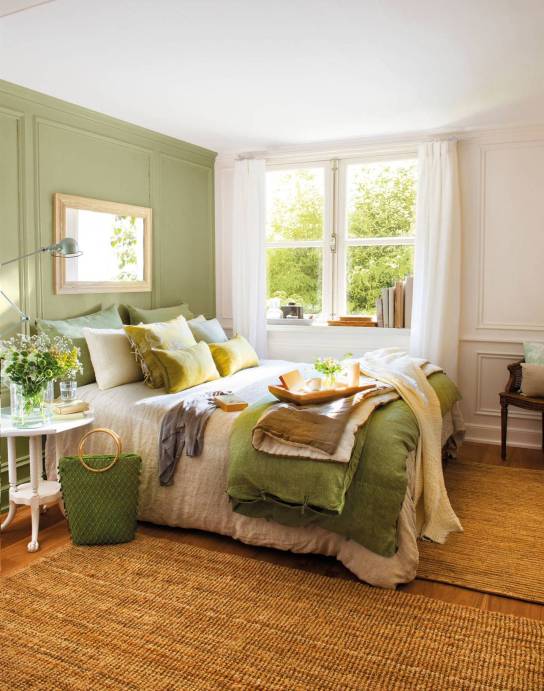 2. A wall in green and with moldings that acts as a headboard
Why do you want a regular headboard if a whole wall can do this decorative function? In this bedroom, the headboard wall has been painted in a bright green and to dress it up even more it has been paneled with moldings, accentuating its decorative effect.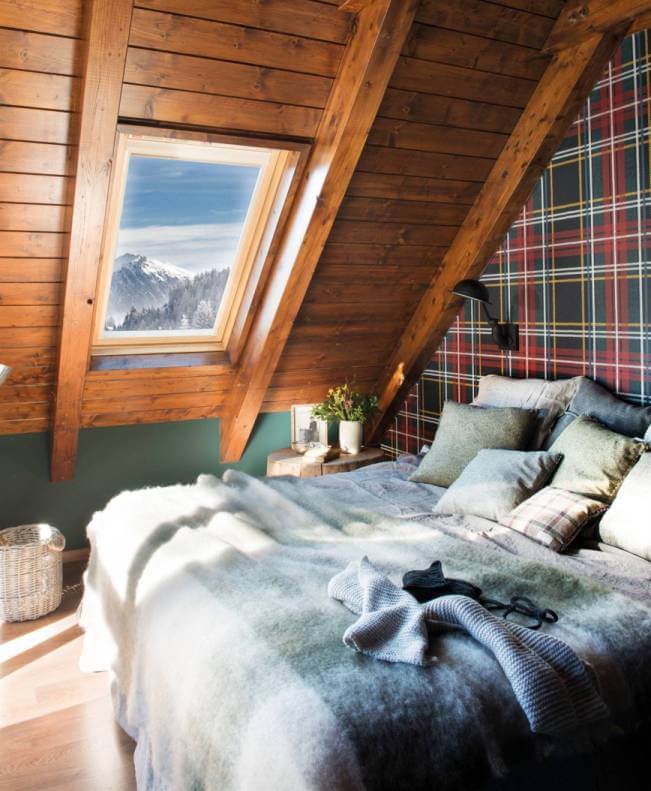 3. Extra warmth with a very british wallpaper
In this mountain bedroom, it was decided to do without the headboard, which in a small attic space could be more of a hindrance than anything else, and instead, the wall was covered with an original wallpaper with Scottish pictures. Due to its personality, it was left only for one wall, the accent wall, and the rest was painted in a matching green. In addition to decorating, it visually covers this space, making it more welcoming.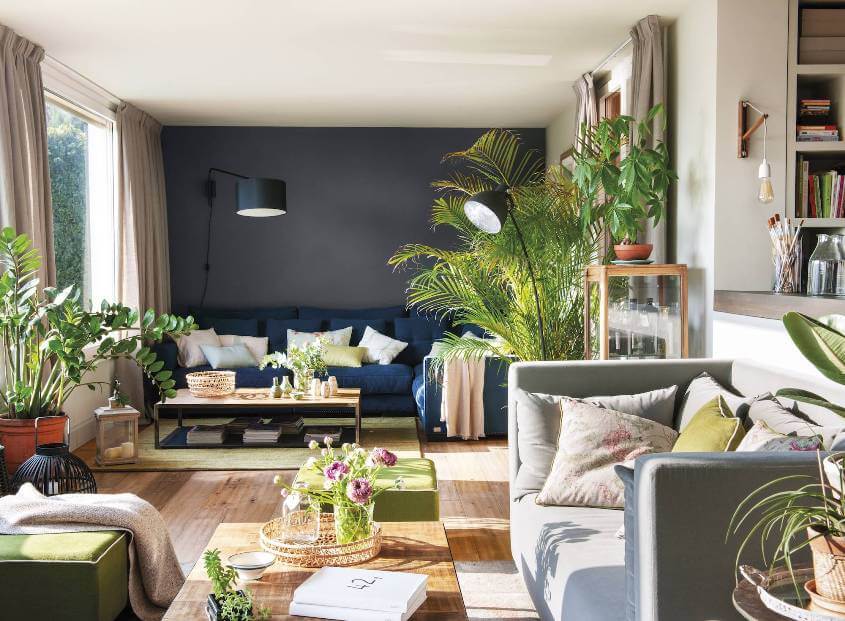 4. Gain visual depth by painting a single wall
It is one of the color effects in relation to space. And is that painting the back wall of a room in a dark color gives more visual depth. Be careful, as long as you have light, as happens here.
5. A wall that connects two environments
How to link two adjoining spaces but as disparate as a library and a dining room? Very easy, with color. Here it was enough to paint the back wall of the dining room in this vitalist green and extend it to the back of the library so that both spaces are visually connected, despite being divided by a low cabinet that acts as a separation.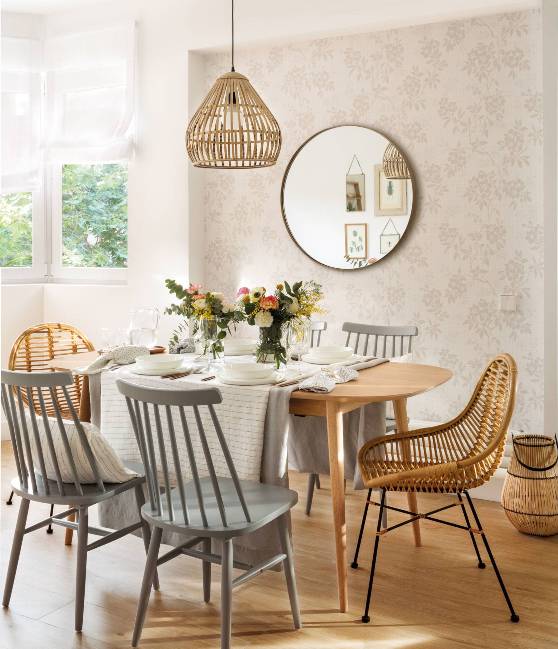 6. A dining room visually framed by wallpaper
Color or wallpaper are a great ally to delimit spaces, especially in open spaces or those that integrate various uses. Here, the wall that houses the dining room has been clad, which, in addition to decorating this space, visually separates it from the adjoining living room, giving each environment its own personality.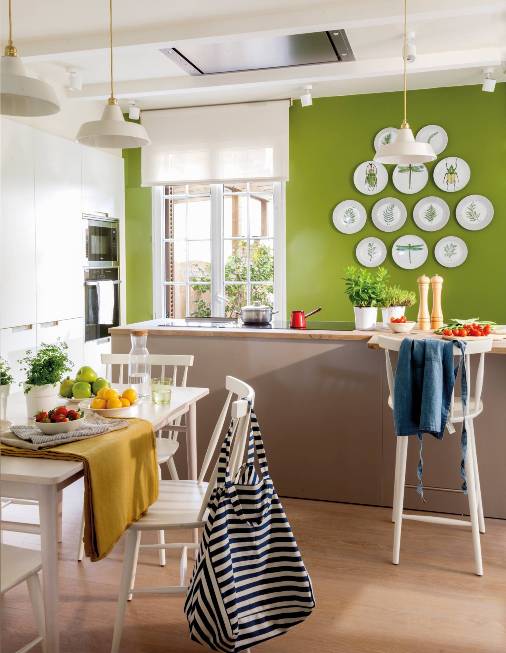 7. A colored wall that makes the kitchen more personal
Looking at this wall, who would say it is a kitchen? Between the colorful green, from some fabrics in the living room, the dining room and the toilet paper, and the decorative plates of plants and insects, more than a kitchen looks like a special corner of the future. It was reserved only on this wall, which is the one that integrates the breakfast or fast food area, which gives it a more homely and less kitchen touch.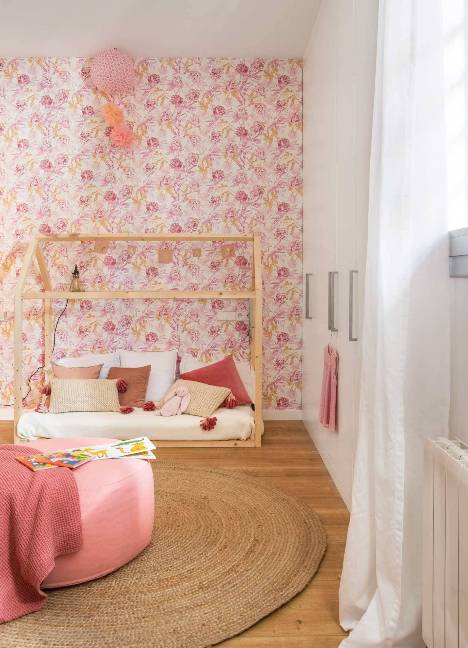 8. An extreme role in the accent wall
If there is a room in the house in which we can dare more with the color or with the decoration of the walls, it is the children's room. If you opt for an extreme wallpaper, as has been done here, it is best to reserve it for a single wall, so you give more power to that accent wall, and also you will not visually overload the room.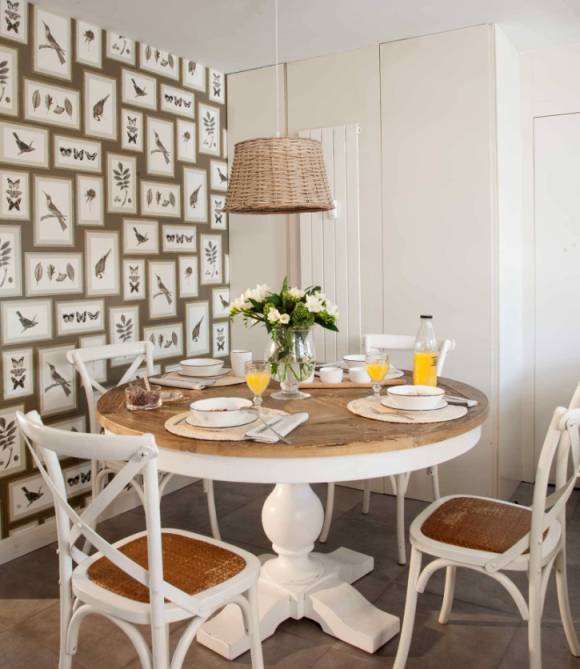 9. An office that is the king of the kitchen
And is that, who can resist that wallpaper? This was precisely the purpose, that in this kitchen the gaze went to the office, which has been given its own personality by visually framing this space with a wallpaper with as much personality as this one. If this same paper had been used throughout the kitchen, in addition to recharging, the impact effect would have been lost.
10. More than a passageway thanks to color
In this distributor it has been chosen to paint a wall an intense red to give it personality and avoid the idea that a distributor is a passing zone. In fact, the space has been completed with an armchair to give it a new look. Being a chromatically powerful color, it is best to reserve it for a single wall.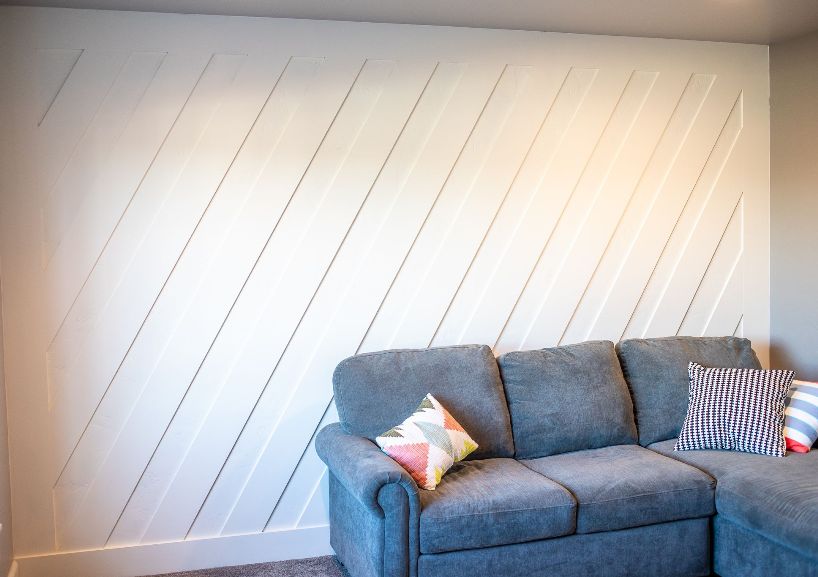 Conclusion
Accent walls are becoming one of the most popular options to decorate and, above all, to easily and very effectively renovate spaces. You can using coastal lean accent wall which also give natural looks to your room and easy to modify. And it is that an accent wall simplifies and much the task of decorating, since it turns that wall into the protagonist of the space just for having painted it in a different color from the rest.
Ideally, the wall you want to highlight is a space that attracts all eyes when you enter the room. The walls with chimneys, the wall of the headboard or the sofa, the wall of the bookcase… A tip: whenever you can avoid choosing walls that have doors or windows, since these tend to counteract the effect you are trying to create. Unless you also integrate them with color. You've surely heard of the color block trend.