In matters of exterior decoration, furniture of garden or terrace, as well as serving to rest, its need special care because the weather and climate can kill them. So it is because proper maintenance to protect them and so that it have a longer lasting life. Not only the sun makes furniture to lose its color, rain can also cause cracks, especially if the furniture is made by wood.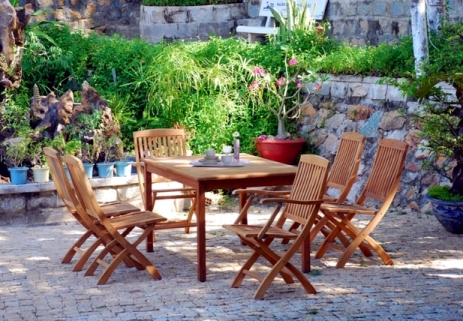 Humidity is also a problem because it can appear and grow insects and fungi that damage furniture, so it is essential to take care of outdoor furniture. If you like wooden furniture, the most resistant are trumpet, teak, ukola trees, stick iron and iroko wood. Also chestnut, mahogany, red meranti, cedar and oak.
And other types of wood with good durability are the pine, fir and american oak. The less resistant is the poplar, birch, raft, maple and ramin.
A good idea is to use wood protectors to place furniture. It is best to buy a product that fits all types of wood and at the same time be effective against insects and fungi. The protector should not affect the natural properties, or leave odors, before applying it, indicated more is to reduce imperfections in the wood with sandpaper, and then pass a damp cloth to remove dust.
We also recommend the teak oil, to be applied with a brush, and wicker or rattan furniture should not stay outside because rain and humidity may deteriorate, so it is best to place them elsewhere. Following these advices can properly take care your outdoor furniture.