Our decks are often worst at baring the elements than our roofs as in most cases; the rain and snow will have a way to run off. Our decks on the other hand, get all the rain, snow and of course the hot sun bearing down on it year round. Due to this, the wood can and will begin to show signs of wear and tear. If you are not sure if your deck may need a help then you need to learn how to inspect your deck.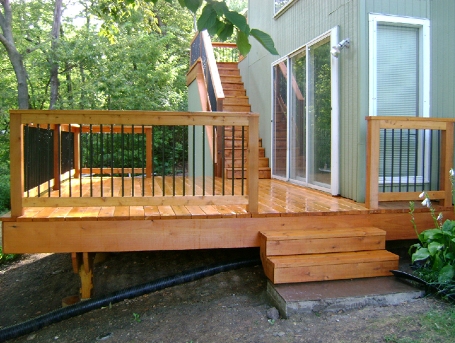 If you have areas of your deck that seem to stay wet longer than other areas, you may want to check if the wood is decaying or rotting. If you notice any type of splintering, try to break it off. If it comes off, then your deck is in need of repair.
Check all fasteners including anchors, screws and nails. If any of these fasteners are coming loose, look rusted or corroded, you may some real issues with your deck. If you notice that any of the fasteners are gone, the entire integrity of the deck is in jeopardy.
The same goes for any stairs, banisters, and railings. All of these should also be examined. If they tend to move when pushed or are sagging or you notice cracks, you are in need of repairing your deck.
One more thing to look for is a change in the color of the wood, moss or mold growing in any area of the deck. Not only will your deck need professional cleaning but also refinishing.
The safety of your family while enjoying the deck is of the utmost importance, if the wood is rotting, this could cause the structure to be unsafe and one of your family members may be harmed; therefore, it is important to hire a professional to examine your deck. This includes the banisters that may not hold a child leaning against the rail which could easily cause a huge fall.
A professional will be able to inspect and provide you with an affordable quote that will ensure the beauty as well as the safety of your deck is in the best condition. Do not let your deck turn into an ugly and unwanted area for the family to enjoy the great outdoors.
When its time for you to consider if you should repair your deck, or get a complete deck rebuild, you should get in touch with someone who can help you decide. Look for an experienced deck builder who can come out to your house and evaluate your needs. They can inspect your current deck and help you decide if it should be replaced or repaired. They will have many options to help you decide what's best for you and your budget.