If you're interested in doing more around the house, the only things that can restrict you are your imagination, and your toolbox. If you're struggling with the former, just have a look around our blog for some inspiration. However, if you need help with the latter, then read on. We've put together a brief guide to show you the basic tools you'll need to get started on projects and fix-ups. Let's take a look right away.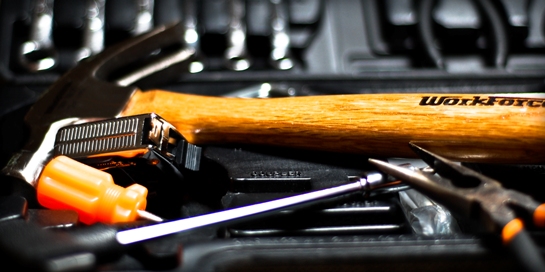 Drills, Drivers & Torques
First of all, why not make use of modern technology in all its glory? For most of us, time is a real killer when it comes to DIY, simply because we just don't have any to spare. So, the quicker we can get through the nuts and bolts of a project – by screwing and tightening those nuts and bolts – the better.
It takes a long time to do by hand, so go electric instead. A good driver is a must, and you will also need a hand drill for tight areas and quick jobs, and a corded drill for tougher materials. For big jobs, you'll need to find some torque tools. They'll come in handy for everything from changing a wheel on your vehicle to jobs that require the minutest levels of precision.
Saws
Once you start getting into the DIY spirit, you will want to create some spectacular things. And the only way to do that is to learn how to cut wood properly. You'll need a good saw to cut through things accurately – but again, go electric. Sawing might look easy, but it is incredibly hard work, and an electric saw will have you getting through the wood in no time at all. A small handsaw is probably a good idea for when you are working with smaller pieces of wood and funny angles. Use your electric for everything else, and think of getting a circular saw as you progress.
Hammers
The good old hammer is used to bang things in, and lever things out. And, when you are just starting DIY, you can bet your bottom dollar you'll be doing a lot of both. A simple claw hammer should be your first purchase. Once you start improving your skills, you can think about going for a joiner's mallet, a ball rein, and a club or sledgehammer for the garden. The more projects you start, the more hammers you're going to need.
Nuts, Bolts & Screws
Nobody who does DIY has anything less than an entire drawer full of nuts, bolts and screws, even if they don't know what they are. Whatever type of project you are doing, you will need a lot of them, in all different shapes and sizes. So, get to your local hardware store and speak to one of the salespeople. They will give you a good selection of the basic sizes, and give you a brief rundown of the type of project they are useful for. Don't forget alum keys, either. You'll get plenty of them with any flat-packed furniture you buy, but they are always getting lost.
Is this all you need? No, of course not. But all of these tools are plenty to get you started. Happy building!