If you do not throw old wheels because they can be recycled into attractive decorative accessories for your home. We will give you some ideas so that you bring a unique touch to your home and incidentally make a contribution to the environment. The best thing is that the tires are moldable, are easily and can be painted, making your home look more modern.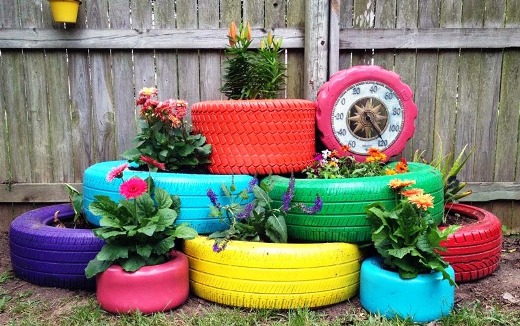 DIY low tables with wheels
Using old tires to make low tables. To do this takes glue and a rope of straw applies the glue in the work area and then placed the rope.
If you want a high table, buy a few feet and placed at the bottom. A good idea is to paint them with spray, to give it a different touch.
DIY Planters with wheels
The wheels can be used to place plants or flowers. Do not support the wheels directly on the ground, in this way they can drain and your flowers and plants will grow without problems.
A good idea is to make a garden with wheels; for sure your garden will look more beautiful.
Similar Topic: Decorate with empty shells (DIY Ideas)
DIY Swings with wheels
Recycle wheels to swing for the kids. Get some strong ropes, rings and painting. Put the rings on the ends of the wheels, and painted with bright colors or put children's drawings. Besides swings you can make a playground with sand so that children can enjoy.
DIY parked bikes with wheels
If you have garden or a common area, part wheels by half and sticks on the floor with screws, so bikes can hold.
DIY Puffs with wheels
Line the tire with fabric and placed a rope to add a rustic air. It is ideal to place in the living room or bedroom. You can put in a cushion or foam.
Already seen all the possibilities only we can say: hands to the work!