If you want to make your home look renewed corners, apply some of the new trends in decoration involves no major changes or significant risk. Among the diversity of options to innovate the aesthetics of an interior, decorative details appear as interesting resources with thousands of applications and options for creating unique spaces.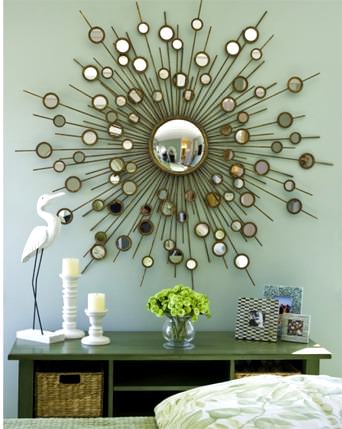 The sun mirrors, have become a perfect piece to add a touch pointer to the decor of a room. There are pieces that during the 60's and 70's have integrated many interior, and today renewed its commitment to be included as objects with an attractive and historical value of vintage pieces.
These decorative treasures you can get them in vintage stores, antique dealers, auction houses or traces, there are pieces in all sizes and dissimilar states of preservation. Some people prefer to keep these mirrors in their original condition, with the unmistakable finish that prints the passage of time, while others choose to intervening pieces and add a winking today.
In addition to the original sun mirrors, you can choose the most modern versions, which are presented in different materials and finishes such as wood or metal, but retain the spirit of the classics, with ornaments and motifs that identify the essence of these attractions decorative accessories.
Whether dealing with an inherited model from an antique shop, a refurbished or a current piece, gold and bronze, natural wood or stained, small or large format, sun mirrors are an ideal object to add elegance and retro decoration of living rooms, dining rooms, hallways, lobbies, bedroom and anywhere in the home.